Walking through in the footsteps of Mary Magdalene, Cathars
and Knights Templars!
Travel Sacred France: Journey with us on an empowering, inspirational spiritual adventure which includes the mystical experience of the sacred sites of France – a timeless wonder which feeds our soul as we quest in search of Mary Magdalene, Black Madonna, Knights Templars, Cathars, mystical Lourdes, Chartres and Paris.
We invite you to join us on this spiritual, inspirational and transformational journey to France. A land steeped in mysticism, the lore and tradition of Mary Magdalene, her places of initiation and healing, the legends of the Holy Family, the Black Madonna, Saint Sarah, The Holy Grail, Cathars, Knights Templars and the healing power of Lourdes, the divine mother and its water, Chartres Cathedral and Paris.
This is a journey of a lifetime, a life-changing experience where we feed our soul in one of the world's most sacred destinations as we awaken to that still inner voice and the energy of golden flame that dwells within our hearts. On this journey we will experience sacred ceremonies, sound healing, ritual, discussion and meditation which will serve to deepen our sacred connection as we weave a tapestry of unified consciousness/unity consciousness.
On this sacred journey we are being asked to feed our soul as it awakens to the many wonders of the miraculous and the mystical. On this adventure we will experience the timeless wonder of being a pilgrim, one more unique than the ordinary traveler. As pilgrims, we share in a special journey as we weave a tapestry of group consciousness/Oneness. Pilgrims are humble, open to unique people and experiences in this great land of enchantment.
Journey through the sacred destinations of France on a mystical 14- or 17-day spiritual adventure, beginning in Nice and ending in Toulouse, or joining our extension to Chartres and Paris through a land rich in tradition and the lore of Mary Magdalene with Finbarr Ross. Finbarr is a facilitator on Mary Magdalene and the Grail legends, a teacher of symbology, holder of the Golden Flame of Illumination, and the shift into the new dispensation.
Absorb the energies of this ancient European culture and its Celtic roots, where later Christian, Gnostic, Jewish, and Muslim traditions recognized the 'Sacred Feminine Ethos' with equal enthusiasm. Although you journey within the 21st Century, you will discover the threads of universal consciousness that feed your soul and predated Christianity still alive today. You will experience many wonderful power sites held sacred by those who have sought the Holy Grail, the presence of Mary Magdalene, Saint Sarah and Black Madonnas, including: Rennes-le Chateau, Grotte de Baume, Maries de La Mer, Arles, Carcassonne, Montségur, Lourdes, Rocamadour, and the mystical Languedoc.
This Sacred Journey offers an extension to Chartres & Paris!
Visit Chartres Cathedral, and Paris with its many mystical sites, for a 17-day spiritual journey to some of the world's most sought-after sacred destinations.
Sacred Destinations of France Tour Itinerary:
September 11th/12th – Friday – Saturday : Grotte de la Sainte Baume
We begin our Sacred Destinations of France Tour as we depart Hôtel Vendôme, 26 Rue Pastorelli, 06000 Nice at 10:30 am. We will journey to St. Baume where we will feel its essence and experience a wonderful chapel with Mary Magdalene and its frescoes as we connect with Mary Magdalene.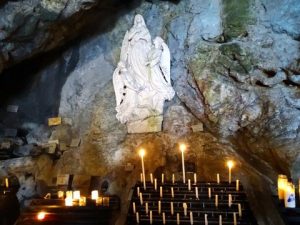 We will experience the Grotte de la St. Baume. Be prepared for a forty minute ascent to approach this mystical cave with all its transformational energy and sacred water where the Magdalene is said to have done water initiations and to have passed the last years of her life and written her memoirs. Feel the mystery of this special mountain which was and is sacred to Isis and has been considered holy ground for thousands of years. The natural water that accumulates here is believed to have miraculous healing powers. Here we will participate in a Magdalene water initiation.
On the 11th we will overnight in our hotel near St.Baume. On the afternoon of the 12th we will depart St. Baume mid afternoon for Arles where we will overnight in or hotel for 2 nights.  (B. D)
September 13th – Sunday – Day 3 : Saint Sarah and Saintes Maries de La Mer
We continue our Sacred Destinations of France Tour with a morning departure for Saintes Maries de La Mer and Saint Sarah. Here we celebrate the spirit of a great woman who was a spiritual pioneer and healer.
Saintes Maries de la Mer is a Mediterranean fishing village. Legend states that the three Marys arrived here on the shores of southern France in a "boat with no oars" from Palestine: the holy entourage of Mary Magdalene, her sister Martha and their brother Lazarus, Mary Jacobi, Mary Salome, St. Maximin, and St. Sarah.
We will visit the basilica associated with the mystery of the arrival of the Grail Family from Palestine with its sweet water and holy well and meet the most beautiful and powerful 'Black Madonna', revered by the Gypsies of Europe as St. Sarah.
In this magical village of Saintes Maries de la Mer, set in the dramatic Camargue amidst herds of wild white horses, black bulls, and flocks of flamingos, we will experience a picnic lunch on the beach, paddling or swimming in the Mediterranean. Later, we will have a wonderful ceremony and meditation on the beach together.
When we connect with Saint Sarah, we will also meet Mary Jacobi and Mary Salome; two amazing women who traveled with Mary Magdalene.
We will return to our hotel in Arles where we will overnight.
Group dinner in Saintes Maries de la Mer. (B, D)
September 14th – Monday – Day 4: Arles/St. Trophimus Church/Church of Mary Magdalene
Today on our Sacred Destinations of France Tour, we will experience a walk around Arles, which contains wonderful monuments and remains of the highly developed Roman Empire. These were contemporaneous with the Grail family's arrival in this region, approximately 2015 years ago.
We will visit St. Trophimus Church with all its mystery and the Church of Mary Magdalene; starting points of the journey to St. James in Compostela. There was also a major Templar stronghold here and the ruins of the commandere still stand.
September 15th – Tuesday – Day 5: Old City of Carcassonne/Basilica of St. Nazaire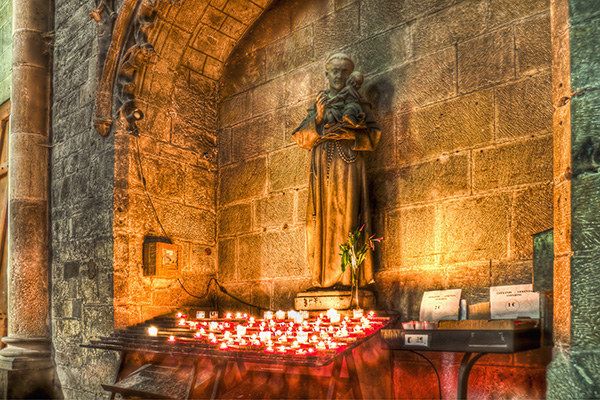 Early morning departure  for Carcassonne where we spend the day exploring in the Old City of Carcassonne, a unique example of a fortified medieval city, known for it's Cathar beliefs and history. In ancient times, Carcassonne was a major commercial and ceremonial center for the Druids and the Phoenicians. We will visit the Basilica of Saint Nazaire with its vibrational energy and connection to Mother Mary, Saint Rock, a beautiful energetic sculpture of Mary and Anna, and another sculpture showing the filtering of the energy streams of consciousness.
Overnight in Carcassonne with group dinner. (B, D)
September 16th – Wednesday – Day 6: : Minerve/Cathar Museum/Aigne
Today, we drive to the small, unchanged town of Minerve, France, the place of Cathar burning where 150 'Parfaits' were burned as heretics on the feast day of Mary Magdalene in 1210.
We will experience the Dove of Minerve, the village church, Cathar Museum and the beautiful art colony at Aigne which also houses a beautiful Black Madonna.
In the late afternoon, we will depart for our hotel near Rennes le Chateau for four nights with group dinner. (B, D)
September 17/18/19th – Thursday/Friday/Saturday – Day 7/8/9: Montségur/Rennes le Chateau/Arques/Limoux
Today, on our Sacred Destinations of France Tour, we travel to Montségur, Cathar seminary and citadel of their last resistance.
In May 1243, in order to appease the pope, the King of France instigated a ten-month blockade of Montségur. A fifteen-day truce was negotiated in March 1244, at the end of which the Cathars had to choose to either, renounce their faith, or perish at the stake - 220 Cathars chose death on the pyre.
Montségur, a sacred mountain, is a place of inspiration, learning, balance and unity consciousness for the Cathars. To reach will Montségur, we will ascend for approx 45 minutes on foot; a crowning achievement for those who are able. Though Montségur's ascent might seem difficult, it is a pilgrimage worth attempting. Montségur is the eternal symbol of Catharism and "The Church of Love".
We will then travel just over an hour to Rennes le Chateau, former Visigoth capital of the region, to visit the famous church of Abbé Bérenger Saunière's Villa Bethania. We will tour the church, museum, gardens and the environs of Magdala, and absorb the atmosphere of this ancient mystical place with its hidden mystery depicted in symbolism.
We visit and experience the Arques, Mount Bugarach, the Goddess Chair and the source. Here, we will experience ceremony and meditation which will take deep within ourselves.
We will journey to a very beautiful Black Madonna and healing well in Limoux. In Limoux, we will experience ancient wisdom in all its glory as we enter into a world of mysticism.
Return to our hotel near Rennes le Chateau, where we will spend some time sharing, integrating, and journaling in the gardens of our hotel before a group dinner. (B, D)
September 20th/21st – Sunday – Monday – Day 10/11: Lourdes Grotto
This morning, we begin the day with a morning departure to Lourdes, arriving there in the afternoon. We will immerse ourselves in Lourdes and its miraculous healing powers, where we will bathe in its waters and allow ourselves to be held in the arms of the Divine Mother.
At 9:00pm we will have a mystical and transformational visit to the Lourdes Grotto and experience its sacred healing water.
Overnight in Lourdes for two nights with group dinner. (B, D)
September 22nd – Tuesday – Day 12: Lourdes/Rocamadour
At 10:00am today we will depart Lourdes for Rocamadour!
Rocamadour was a famous goal of Medieval pilgrims coming to worship the Black Madonna.  The 12th century Basilica of St. Sauveur is built in the cliff face, and at its entrance is a sword dangling from the rock. The sacred crypt of St. Amadour, the hermit holds powerful energy.
Taking the lift to the upper town one gets not only breathtaking views of the valley below and of the surrounding mountains, but of a most powerful Black Madonna reputed to have been carved by Saint Amadour, himself.
The buildings of Rocamadour rise in stages up the side of a cliff on the right bank of the Alzou, which here runs between rocky walls 400 ft. in height. Flights of steps ascend from the lower town to the churches, a group of massive buildings halfway up the cliff. The chief of them is the pilgrimage Church of Notre Dame (rebuilt in its present configuration from 1479).
In the upper village, we will encounter the second powerful Black Madonna.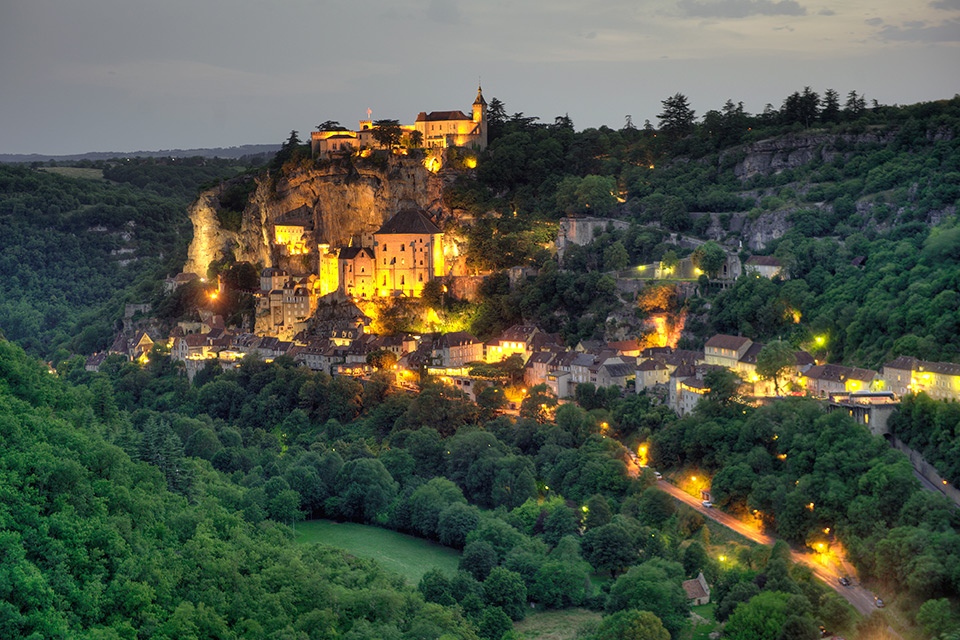 Tonight, we will overnight in Rocamadour, group dinner. (B, D)
September 23rd – Wednesday – Day 13: Rocamadour
Rocamadour is a very special place attributed with numerous miracles reported over hundreds of years. Verified reports of miracles at Rocamadour range from big to small, from the miraculous preservation of the body of St. Amadour, to the ancient bell that rings all by itself, and more.
Today we will continue to enjoy Rocamadour with its magical Black Madonnas and its mystical places, as well as free time for shopping.
Overnight in Rocamadour, group dinner. (B, D)
September 24th – Thursday – Day 14: Toulouse/Journey's End or Chartres & Paris Extension
This morning, we will travel to Toulouse.
For those who are not taking the extension:
Those who are choosing to end their Sacred Destinations of France Tour here, in Toulouse, will have some time to explore the beautiful Black Madonna before dinner.
Overnight in Toulouse, and on the morning of of the 24th, transfer to Toulouse Airport for your flight home, grateful for all you experienced. (B, D)
For those who are taking the Extension to Chartres and Paris:
In the morning, we will say goodbye to our friends who are ending their tour here before traveling on to Toulouse, where we will catch an afternoon flight to Orly airport and then transfer to Chartres.
Overnight in our hotel in Chartres. We will share a group dinner in a local restaurant.  (B, D)
September 25th – Friday – Day 15: Chartres Cathedral
Today, we depart our hotel early, to fully experience Chartres Cathedral, with a history dating back to the 4th century. It was erected during a time of religious peace brought about by the Emperor Constantine. Chartres is rich with mysterious sacred imagery and sacred geometry and is said to be encoded with the secrets of the universe. It was established on a hilltop, where a sacred forest once stood. A well beneath the cathedral was sacred to the Druids and is said to be a miraculous source of healing water. It is said to house the tunic of the Blessed Mother, the Sancta Canisia, since 876 when it was given by Charlemagne after he received it as a gift from Jerusalem.
The Cathedral today is one of mystery and majesty. It is a holy place of rare architectural beauty, with its 160 stained glass windows, crypt, labyrinth, and unique silhouette above the landscape. The standout feature at Chartres is the labyrinth, installed into the Cathedral floor in the year 1200. Finbarr will explain the history of the labyrinth and address the path of enlightenment that is opened to us via the 11-circuit Chartres labyrinth.
We will have some free time to explore and ponder on our own.
We will return to our hotel in Chartres, with group dinner in a local restaurant. (B, D)
September 26th- Saturday – Day 16: Paris/Church of San Sulpice/Farewell Dinner
This morning, we continue our Chartres/Paris Extension with an early departure to Paris, where our hotel is splendidly located close to the lovely River Seine. We travel to the Left Bank, to the historic Church of San Sulpice in search of "The Magdalene Line", the Rose line (Paris Meridian), and much more including clues to Mary Magdalene's children.
Visit the Louvre to view the paintings associated with Mary Magdalene and the Grail legends. Free time to explore this world-famous museum on your own and/or shop its gallery stores or the adjacent 'Carousel du Louvre' mall.
This evening, the tour ends with a farewell dinner in celebration for all we experienced on this sacred journey.
Overnight in Paris. (B, D)
September 27th – Sunday – Day 17: Depart Paris for Home
Today we depart for our home city, or continue to explore Paris, grateful for all we experienced on this sacred journey.
Sacred Destinations of France Tour Price:
Sacred Destinations of France Tour with Chartres/Paris Extension Price:
SACRED DESTINATIONS OF FRANCE TOUR PRICE DOES *NOT* INCLUDE:
Airfare

Meals not mentioned above

Extras at hotels

Mineral water, tea, coffee, after meal beverages, personal expenses (i.e. laundry, valet service, telephone calls, postage, etc.)
$500 deposit secures your place on the journey with the balance due 60 days prior to departure.
For reservations call 1 833 970 6217 or book online on this page.
UK booking: Roma Telephone 01305 816644
For Price in Euros or Pounds Sterling, please contact customer service.
We offer travel insurance through Travel Insurance Center.
If you would like to make a payment towards your tour, call us at +1 (833) 970-6217 or select "Pay Balance" in payment options below.
Please make sure you select the appropriate room accommodations.
If you have already registered, you may also:
or