I am here in Guatemala at a retreat center overlooking Lake Atitlan, an amazing crystalline lake with magical vibrations similar to Lake Titicaca in Peru. I believe that both of these lakes play an important role in our awakening.
I arrived here on Wednesday lunchtime having left Chicago on Tuesday after doing a presentation at A.R.E. on  "Ascension a Journey of Self Realization" and two days at the Body, Mind, Spirit Expo and I don't need to tell you that Chicago was cold!
So here I am pondering my life as this is very much a year of Change/transition for me, a new website, a woman named Linda Evola is taking over the marketing and booking of the tours for SMJ. Changes with management of The Nature Doctor leaving space for some new energies to arrive there to take us to the next level. I am moving house by mid-April as my landlord in Durango has decided to retire and come live in my house so I need to relocate. I decided I need some quiet time to ponder all of this, hence my personal retreat at Lake Atitlan – one of the clearest places I know in the world today to ponder.
So I started my time here with a three day cleanse with Pineapple Juice which is ending today and tomorrow morning, Sunday, I am doing a Fire Ceremony with a local Shaman before I go back to eating. I am taking advantage of the three different Temples on the property to meditate and pray and for the most part I am in silence.
As part of my pondering on the way forward I am drawn to the vibrational message for this year "Awakening to the Soul's Journey" and as I am allowing myself to navigate through this process I thought about Community and then I thought about how lucky I am to know so many wonderful people in the community of Sacred Mystical Journeys and the wonderful people I meet as I quest doing sacred journeys or workshops/full moon meditations or discussing their health issues and how The Nature Doctor wholefood nutrients can help, as I pondered all of this I felt the need to introduce to you seven amazing women who have and are doing wonderful work in the world and as you know seven is the number of the Divine Feminine.
---
Patricia Ballentine
"My Grandma is A WITCH: A Tale of Religious Acceptance"
I am pleased to acknowledge the completion of a 3-year project.  My Grandma is A WITCH: A Tale of Religious Acceptance has been a labor of love.
This book is inspired by a conversation with my young grandson as he shared his fears and beliefs about witches.
Though written in the genre of a children's story book and inspired by actual conversations, there is a tale to be told for the adults who face the challenges of understanding what is true, and what is not.
---
Celia Cornick
"KISS The Keep it Simple Way We Create Ourselves"
Kiss – a well know acronym that stands for "keep it simple, stupid"….. Explores how we, as sentient beings simply create ourselves. Our starting point is everything we personally and collectively inherit, including our physical makeup, nationality, culture and knowledge. We have the ability to accept, develop, or change our inheritance as we evolve, but we can only do this through an understanding of how our ongoing creations, including ourselves arise out of sensing. Just as we take in air, food and water to create and maintain healthy physical bodies, we take in our world through our senses. This is how we become aware and vibrant.
From the moment of birth, and perhaps before, we gather experiences. Our experiences define us and make us who we are. They are good or bad, ones we want to remember and ones we never wish to repeat. Through them, we grow and evolve, developing our abilities to be active and to feel and think. We take all this as a given, never questioning how it happens – how we create experience.
As humans we have greater powers and abilities to create experience beyond just material assessment. We are much more than our bodies. We have the ability to create conscious superior beings for the benefit of all so long as we understand how to do so.
---
Sandra Miniere
"A Lighter Side to Cancer busts the myth
that you are powerless over your health"
When you realize that lifestyle plays a significant part in beating the cancer odds, you begin to take your power back from cancer. A Lighter Side to Cancer raises your awareness and empowers you to take charge of what is within your power to change. Sandra reminds you that a body, mind and spirit approach to healing prevents deaths, minimizes treatment side-effects, and leads to optimal health.
Can a cancer diagnosis become a wake-up call to greater aliveness and the new you?
Sandra Miniere used her breast cancer to become fully alive. Her uplifting story of courage and discovery inspires wellness on many levels. She developed an integrative plan to get healthy, evolve personally and change her life. Her holistic approach to healing provides a blueprint for others to follow.
She encourages you to use any crisis as an opportunity to eliminate the negative, focus on a positive outcome and connect to a Higher Power.
To learn more, go to http://lightersidetocancer.com
---
Marilyn Schoeman
"Go! How to think, speak and ACT to make good things happen"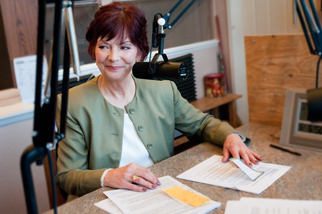 GO-power! A quantum leap ahead, Green Light® improves everything! Discover the new breakthrough Language of Possibility – how to think, speak and ACT to make good things happen.
Create the greatest good, for the most people, in the best way for the longest time.
---
Karen Johannsen
"Full Moon Magic"
My book, Full Moon Magic, and card deck were designed to be used as a tool for making the celebration of the full moon and the five days surrounding it, part of a spiritual practice.
I have come to understand that although many people honor the full moon in some way they may not be informed about the deeper meaning….the spiritual significance of that important moment in each month.  Also, it seems many do not have knowledge of the importance of the days before and the days after the full moon.  My card deck was designed specifically with this in mind.
---
Karin Luciano
"A night owl painter and an edge-walker"
Karin Luciano, an award-winning Margaret River artist. Prolific since launching her full time art career in 2000, she has held over 26 solo exhibitions, as many collaborative exhibitions and has exhibited Australia-wide in Melbourne, Sydney, Perth, Queensland, the Asia-Pacific Region and has private collections worldwide.
Influences in her work include her late father, André Schuster, a maestro gypsy violinist and double bass player from Transylvania. In Karin's artistic lineage is feminist artist, activist and painter, Miss Portia Geach. Portia was Karin Luciano's great great Aunt, born in the late 1800's.
Traveling is an integral part of Karin's art practice. She receives her inspiration from experiences and the life adventures of meeting new people, experiencing new cultures and just BEING in a variety of landscapes. Her works infuse her 'magic moments' and evoke the emotions that she absorbs during her extensive worldwide travels.
"Painting is more than just putting a brush to canvas. It's a mystical process. It's about clearing a pure path to your creative truth and allowing the light to channel through into your most powerful expression. This is my main passion in life along with writing and music. I only discovered this by chance in 2000 when I was awarded my first art prize.
I am a night owl painter and an edge-walker, connecting to all things divine, creating a new paradigm which links the eternal dialogue of the heart and spirit, and places it into authentic visual expression.
Karin Luciano is without a doubt a consummate master of intuitive narrative art and her work has been described as the most original style to come out of Western Australia.
www.karinluciano.com.au
---
Aine Armour
"Soul Stream Paintings"
Aine is an amazing Irishwoman who lives in Colorado and does the most amazing Soul Stream paintings for people along with lots more. I am the proud owner of a soul stream painting she did for me.
"We are your family Tayah. We are the Sidhe. Our journey on earth has been a long one. We have learned much and traveled far, and it is not over yet. We are still learning, and we have many to call home. You are coming home."
"I want to record my life in detail, all of this incredible journey so that others are comforted in knowing they are not alone, that the journey into greater awareness is being witnessed by me."
"Then write as though your life depended on it," she heard Lugh say. "Write from your body, from your bones, and your blood. Write out the mystery of being. Never give it up."