A spiritual adventure to the ancient sacred sites of Scotland
Travel Sacred Scotland: Experience Autumn Equinox in Fortingall – a place of mystery – in this ancient Holy Land of Scotland!
Experience the incredible rugged beauty, tranquility and sacredness of the Isle of Iona. Let this unique land inspire the imagination. On this sacred journey you are being asked to feed your soul as it awakens to the many wonders of the miraculous and the mystical. Join me on this spiritual adventure opening the pathway of the heart, a journey of ascension where we will experience the timeless wonder of being a pilgrim, one more unique than the ordinary traveler.
Travel by coach and ferry to out-of-the-way places in lands steeped in ancient mystery and tradition such as the Sacred Isle of Iona, Isle of Skye, Kilmartin Glen, Callanish Stone Circle, Findhorn, Clava Stone Circle, the sacred valley of Glenlyon, Mount Schiehallion and the enigmatic Rosslyn Chapel.
Sacred Journey to Celtic Scotland Tour Itinerary:
September 12th – Wednesday – Day 1: The Isle of Arran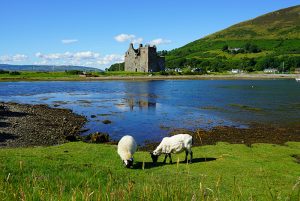 We begin our Sacred Journey to Celtic Scotland at 10:00 a.m. with a morning departure from Glasgow so that we can experience the sacred sites of the Isle of Arran. Arran is a popular tourist destination due to its mild climate and picturesque scenery. The Isle of Arran is a treasure trove of natural wealth and beautiful villages, with palm trees, castles, and ancient monuments, a whiskey distillery, and lots of wildlife and local color to enjoy.
Upon arrival we will have lunch on our own. In the afternoon we will explore Brodick Castle and the Isle of Arran Heritage Meuseum. We will overnight at our hotel on the Isle of Arran.
(B&D)
September 13th – Thursday – Day 2: The Machrie Moor Stone Circles
Today, on our Scotland Sacred Sites Tour, we will explore the magnificent Machrie Moor. The Machrie Moor stone circles are a collection of prehistoric standing stones, stone circles and burial cairns.
 The stones are positioned over ancient timber circles, some of which have been carbon dated to over 2,000 BCE. The six stone circles of Machrie Moor are aligned to a divide in the skyline where Machrie Glen splits into two valleys, and on the Summer Solstice the sun comes up directly in line with the divide in the two valleys. We will overnight at our hotel on the Isle of Arran.
(B&D)
September 14th – Friday – Day 3: Kilmartin Glen/Temple Wood Stone Circles
Morning departure from Arran as we journey to Kilmartin Glen. An area in Argyle of mystical beauty, Kilmartin Glen features one of the largest concentrations of Neolithic and Bronze Age ruins in Scotland. There are over 350 ancient monuments within just a six mile radius of the village – standing stones, a henge monument featuring five burial cairns with cup and ring marks on them, and more.
Next we will tour Temple Wood Stone Circles in Kilmartin Glen. Temple Wood is an ancient ritual site that also features lunar and solar alignments. We'll explore the many ancient stone circles, burial cairns, and standing stones of Temple Wood as we discover the power and beauty of our ancient past. In the afternoon, we will take a ferry from Oban to the isles of Mull and Iona. We will overnight at our hotel on the Isle of Iona.
(B&D)
September 15/16th – Saturday/Sunday – Day 4/5: Isle of Iona/Staffa Island
Iona was a Sacred Isle to the Druids in ancient times and also for the Culdees and Celtic Christians who came here. This Holy Isle's historical fame has resulted from the Christian mission of the Irish Saint Columba who came to Iona during the 6th century A.D. We will explore Iona Abbey, St. Martin's Cross, St. Oran's Chapel, the Royal Burial Grounds of Kings and the ruins of the Iona Nunnery. We will experience a sacred water ceremony at the Well of Eternal Youth with group meditation, and the vortex energy of the island, opening ourselves up to this ancient land as we attune ourselves to the sacred energies of Iona.
There will be free time to explore on our own and also an optional visit to the Isle of Staffa, taken independently, if you wish. Whilst on Iona, breakfast and dinner are included each day, and lunch will be taken independently. Overnight on Iona.
(B&D)
September 17th – Monday – Day 6: Ferry Ride to Fort William
This morning we continue to explore and enjoy Iona and in the afternoon we depart Iona by ferry for Fort William where we will overnight.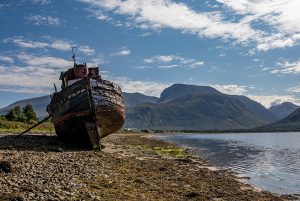 Fort William is the largest town in the highlands of Scotland, and known for its picturesque mountains and scenic day trip excursions. Known as the Gateway to Ben Nevis, Fort William is home to some of the most amazing views in the Highlands, as well as many fantastic restaurants, museums, and shops.
(B&D)
September 18th – Tuesday – Day 7: Eilean Donan Castle/Isles of Harris and Lewis
As we continue on our magical journey through Celtic Scotland, we will experience some amazing panoramic views. We will visit Eilean Donan Castle, then drive across the Isle of Skye to catch our evening ferry to the Isles of Harris and Lewis.
Eilean Donan is a small island at the confluence of three sea lochs. The beautiful Eilean Donan castle was originally built in the 13th century and was restored in the early 20th century, with the addition of an arched bridge to give easier access to the island, along with other additions. Throughout history the Eilean Donan castle served as a stronghold to many different rulers, including Clans Mackenzie and Macrae, and the Jacobites.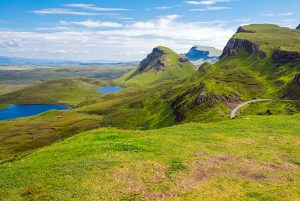 The Isle of Skye is regarded by many as one of the most breathtaking experiences of the Highlands, with its medieval castles, picturesque fishing villages, and rugged landscapes to take in. Dinner will be taken on board the ferry to the Isles of Harris and Lewis. We will overnight at our hotel in Stornoway where we will spend two nights.
(B&D)
September 19th – Wednesday – Day 8: Callanish Stone Circle
Today we experience the powerful Callanish stone circle, 'The Stonehenge of the North', dating back to 3000 B.C. The layout of the Callanish Stones is unique and looks like a Celtic cross. These ancient standing stones were erected during the Neolithic period and were used for ritual purposes during the Bronze age. Like the Temple Wood standing stones, the Callanish Standing Stones were built to align with the sun and the moon, and connect with them at different points in their orbits. The Callanish Standing Stones are positioned with puzzling accuracy, predating Stonehenge by about 500 years. We will also visit the two satellite stone circles adjacent to Callanish. Overnight at our hotel in Stornoway.
(B&D)
September 20th – Thursday – Day 9: Stornoway/Ferry to Ullapool/Inverness
September 20th - Thursday - Day 9: Stornoway/Inverness
Today on our sacred sites trip through Celtic Scotland, we'll continue to enjoy Stornoway and its sights as we experience the essence of the Scottish Isles.
Our ferry departs Stornoway to Ullapool. Upon arrival, we transfer to Inverness where we will overnight.
(B&D)
September 21st – Friday – Day 10: Findhorn Ecovillage/Clava Cairns
In the morning we will visit the Findhorn Community and take a tour of the ecovillage, Findhorn Gardens, and Meditation Sanctuary. The ecovillage in Findhorn is an experimental architectural project based on sustainable development and community living with a minimal ecological footprint. The Findhorn ecovillage community was established in 1962, and as of 2005 has about 450 members.
In the afternoon, we will visit the Clava Cairns - a well-preserved medieval Bronze Age site with prehistoric burial cairns, standing stones, and ancient initiation temples. The Clava Cairns are a significant example of Scottish Highland history, and are among the best preserved prehistoric sites in Scotland.
We'll overnight for two nights at our hotel in Pitlochry.
(B&D)
September 22nd/23rd – Saturday/Sunday – Day 11/12: Fortingall/Glenlyon
September 22nd/23rd - Saturday/Sunday - Day 11/12: Fortingall/Glenlyon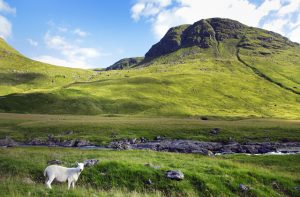 Today we experience Fortingall in the very heart of Scotland, steeped in Celtic myth and legend. Central to the area is Glenlyon, a 34-mile long glen regarded as one of the most beautiful and dramatic glens in Scotland. We'll experience many sacred sites all within a 20 mile radius as we tour the sacred sites of Glenlyon.
We will travel to Fortingall Church, and also see the famous Fortingall Yew Tree. The Fortingall Yew Tree is said to be the oldest tree in Europe, believed to be about 5,000 years old. Less known is an intriguing oral tradition that Pontius Pilate was born in the hamlet of Fortingall. On the 23rd we will celebrate Autumn Equinox with a special ceremony and with a Three Fold Golden Flame meditation.
During our tour of Fortingall, Scotland sacred sites, we will visit:
The Croft Moraig (Field of Mary) megalithic stone circle, believed to date from around 3000 B.C.
The "Praying Hands of Mary", a megalithic standing stone in Glenlyon, which is on an earth energy alignment, or leyline, with the Croft Moraig stone circle.
The holy Schiehallion Mountain which translates from the gaelic as "the Fairy Hill of the Caledonians". Strange tales are told about this awe-inspiring mountain of quartz crystal.
The St. Mary's grail chapel with a remarkable heraldic mural painted on its barrel roof ceiling which displays amazing and unique hidden symbolism.
We will overnight in Pitlochry on the 22nd. In the late afternoon of the 23rd, we journey through scenic and dramatic landscapes as we make our way to Edinburgh, where we will overnight.
(B&D)
September 24th – Monday – Day 13: Rosslyn Chapel/Edinburgh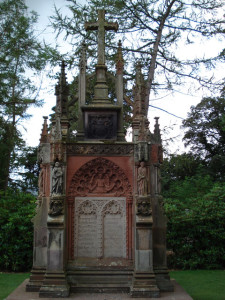 Today, on our final day of the Sacred Tour of Celtic Scotland, we will visit the enigmatic Rosslyn Chapel. Here, we will explore and meditate on the mysteries of the Essenic Jerusalem Temple scrolls, said to be buried at Rosslyn Chapel. We will also experience the underground Rosslyn Chapel Crypt and its mystery.
(B&D)
September 25th – Tuesday – Day 14: Depart Scotland/Homeward Journey
We will bid farewell to Scotland and transfer to Edinburgh International Airport for our homeward journey, grateful for all that we have experienced.
(B)
Request This Tour