I just wanted to share our adventure with you, and to give you an update on our quest along the Camino.
We started on Friday morning walking the labyrinth which was, as always, wonderful. We finished walking the labyrinth, and before we started exploring the Cathedral and crypt with its many beautiful windows and doors – all which tell a wonderful story – it was brought to my attention that on November 1st 2014 the Labyrinth will be closed for 30 months as they renovate that section of the Cathedral. All of the front section, main alters, and windows have already been renovated, and it looks magnificent. Exploring the doors and windows to me were some of the highlights after the labyrinth (the story of the old and new testament).
After exploring all of this, we went for dinner and to our hotel to pack so that we were ready for the next phase of our Journey to Orleans to honor its heroine Joan of Arc in the church of Notre Dame des Miracles, and where there is a powerful Black Madonna, St. Mary the Egyptian carved from black stone.
After lunch we traveled to Vezelay where we arrived at approx. 4.00pm to experience the scallop shell pilgrim symbol in the pavement before the 12th Century abbey Basilica of St. Madeleine.  The basilica is where some relics of Mary Magdalene are housed and where she is honored as "The Holder of the Grail." This was an amazing experience! The energy in the abbey and in the crypt are amazing, and opening oneself up to these energies takes one to a very special place.
I need to share with you that the experiences we are sharing on this pilgrimage are very different to a sacred sites tour. We are feeling a much deeper inner experience as we walk and quest each sacred place.
We spent our second day in Vezelay re-experiencing our initial visit to the abbey, but on a much deeper level. In the afternoon we took time to be quiet, to meditate and journal and watch the walking pilgrims arrive.
Next we took a little diversion, still on the Camino route, but a different path from our planned route. We went to visit Saint Bernadette in Nevers – what a mystical and heart opening experience! This was my second visit there and it was magical and left us in a deep inner peace.
Next we traveled back to our route, and to Lyon to the 10th Century Cathedral St Jean which holds a 12 to 15th century astronomical clock and a 17th century Black Madonna. Then we visited Notre Dame Fouvieres and its three Black Madonnas – what an experience!
Having been totally taken to a new level, we set off for Le-Puy-en-Velay, where we overnighted and I overslept by an hour. Luckily we were not traveling anyplace where we needed to be at a specific time.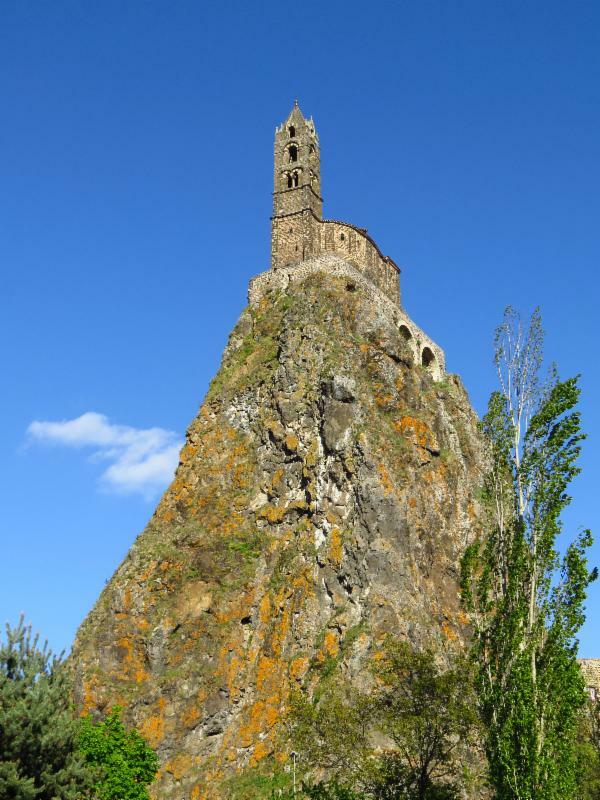 We spent our day visiting amazing ancient Druid sites upon which churches were built. We visited the Cathedral with its Black Madonna, we experienced The Fever Stone also known as the stone of apparitions, and we saw Frescoes and another Black Madonna on a side chapel. We then climbed all 262 steps to visit the Goddess statue of Notre Dame De France on top of a volcanic peak. Then we visited the volcanic rock with the Chapel of Saint Michael – another magical experience. We finished our day off by visiting the Chapel of Saint Clair, also known in ancient times as "The Temple of Diana." All of these experiences are taking us to a new understanding of the Camino pilgrimage process as we encounter a deepening peace each day, learning more about ourselves and the art of pilgrimage.
Our next step of the journey took us to Conques, the seat of a powerful 8th century abbey, and home to Saint Foy and her story. Saint Foy was burned for converting to Christianity but the fires extinguished, and so she was beheaded. After her death, many miracles of healing happened which were attributed to her. The Abbey is also home to a magnificent treasury which holds many amazing pieces of sacred art are relics, among them a gold Black Madonna.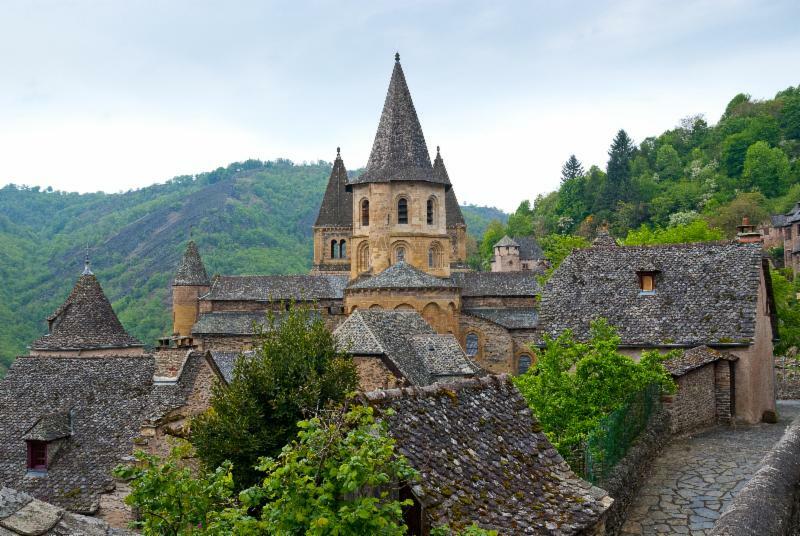 Having experienced all of this we set off for Rocamadour with its 12th Century Basilica of St. Sauveur built in the cliff face; at its entrance is a sword dangling from the rock. The sacred crypt of St. Amadour the hermit holds powerful energy with breathtaking views of the valley below and of the surrounding mountains. The basilica also houses a powerful Black Madonna and churches on different levels. This is truly a place of pilgrimage. We did, however, miss the Black Madonna in a boat at the lower church, as it appeared it had gone on vacation to destinations unknown.
Our next stop was the Basilica of St. Sernin in Toulouse – a very special pilgrimage stop on the route – a place where you can experience some magnificent shells, explore, and connect with the many beautiful Madonnas, paintings, and relics. Having taken in all the energy we could hold, we departed for Lourdes to stop and partake of the special water and healings that happen there as it was only thirty minutes off of our route and we felt it was the perfect place to spend our last night in France before venturing into Spain. On our route so far we have encountered 16 Black Madonnas, and received many blessings, mystical moments, and vibrational shifts within ourselves.
I will follow up later with our Spanish experiences!
Thank you all for the support and blessings you bring to my life.
Blessings, love and peace,
Finbarr