Day One – Dublin:  Christ Church Cathedral, Trinity College and Book of Kells
We all met at Dublin Airport to begin our adventure. Everyone was so excited especially Gayle who had been on the Scottish tour with me and was now embarking on her ancestral Irish adventure.
We traveled into Dublin and our first stop was Christ Church Cathedral built next to the old city walls. This is a cathedral with beautiful acoustics and as we strolled around the cathedral we did so to the beautiful sounds of the organ.
We visited the stain glass windows of the saints and of course I was quick to point out that one of the windows said Saint Finbarr. We then went to a very special spot within the cathedral that has a very powerful vortex and I thought, as did Eileen, that she was going to take off.  Each person in the group had a chance to experience this energetic spot before we moved on down to the crypt to see the ancient treasures of the cathedral. This crypt in its early days was used as a brokerage house for buying and selling of commodities, money lending etc.
From there we moved to Trinity College and the Book of Kells.  Helen and Jennifer were totally blown away by the whole experience of seeing the engravings and the notes written by the transcribers. Everyone was moved by the Library of ancient manuscripts held in the Long Room.
Our next stop was the National Museum where all the ancient treasures of Ireland are kept, from the Ardagh Chalice to the ornate fling head found at Knowth. Helen could not believe her eyes as she gazed upon all of the ancient carvings and Celtic art.
We then drove to our hotel where everyone rested for an hour before dinner, except for Jennifer who went to the Spa and its steam room.
Day 2 – Temples of Newgrange, Knowth and Dowth
We departed our hotel at 9.30am after a good nights rest and time change adjustment and traveled to Newgrange.
At Newgrange we experienced the inside of this magnificent temple built to honor the Goddess, representing regeneration and fertility. We had about a 15 minute experience inside the temple.  This temple is layed out in perfect alignment to the rising sun on winter solstice. Jennifer and Glenda, our two Australians on the tour, were awe struck at the magnitude of this vast temple. Having finished inside we spent some time walking around it and looking at its 97 kerb stones which weigh several tons each. Here Glenda did some experiments with her pendulum as it moved of its own accord when she moved it to different parts of the kerb stone.
We then traveled to Knowth which is a larger temple than Newgrange and it also has 17 satellite tombs.  Here we found some magnificently decorated stones of Neolithic art. Ireland holds two thirds of the Neolithic art in the world and most of it is at Newgrange and Knowth. Knowth is aligned to the Equinoxes, and as we walked around and touched the stones each person was transported back in time and receive what I would call a healing.
Next we visited Dowth, another Goddess site aligned to the setting sun on winter solstice. Here we did a blessing ceremony on top of the mound and Glenda almost took off in flight when a gust of wind caught her off balance.
Then we visited The Hill of Slane where St Patrick lit the first pascal fire to get the attention of the High King.  From this hill you can see for miles in all directions and we could understand why Patrick chose this special place to light his fire.
This brought the day to a close and we departed for our hotel and a wonderful dinner.
Day 3 – Loughcrew and Tara
Today we went to Loughcrew. Here we climbed a hill to get to the magical place where we again could see for miles, with views stretching to the mountains in Northern Ireland. Loughcrew is aligned to the Equinoxes and it has exquisite art within its chambers. Here Eileen, Glenda and Helen occupied each of the three chambers to meditate and experience this place of great mystery before going outside to sit on the hags/witches chair to receive a message from Goddess Maeve. Each person in their own time sat on the chair and received either a message or had a vision.
Our next stop was at Tara where we stopped at the Tea Rooms for some wonderful homemade soup before we went to explore the mystery of Tara itself.  We entered Tara through the ceremonial entrance and we had not walked more than one hundred yards when Glenda, Eileen, Jennifer and Helen said that they were experiencing a wonderful energy flowing into their bodies through their feet. I have always found this to be so.  I believe Tara is a very magical and mystical place.
At Tara our first stop was where a temple dating back to 2000BC has been discovered under the surface. Next we moved onto and area where some Israelite's from London in the early nineteen hundreds spent several years searching for the Ark of the Covenant which they believed was buried there. I myself believe that it is one of the Emerald Tablets is buried there. Here Eileen and Glenda had visions of colors and a Druid figure dressed in white blessings us. We then moved on the the Mound of the Hostages where Glenda captured on one of her photos of Neolithic art a beautiful orb, which was her second orb, as she also captured one on her photos of Loughcrew as well.
Then we explored the center point of the site where we stood around the Tara Stone and chatted with some locals who were fascinated with what we were doing as we held hands in a circle. Eileen and Helen felt that the stone was pulsating out a very powerful energy.
We then moved to the temple of the vestal virgins where I built and arch for the ladies to enter this temple and they gathered in a circle and anointed each other with sacred oil.
Then it was time to go back to our bus and travel to Killiney on the south side of Dublin where we had a wonderful evening and dinner at Fitzpatricks Killiney Castle.  Jennifer again visited the Spa in this hotel. We are now making her our hotel services expert as she can tell me things about these hotels and their services that I did not know.
Day 4 – Glendalough, St Kevin's Well, St Mary's Church and more.
Our fourth morning we traveled to Glendalough, one of the most famous monasteries in Ireland founded by Saint Kevin. This is a monastery about the Christ Consciousness / The Divine Feminine and perfect balance. It is a place of contemplation as one quests the grounds.
We started at the crossroads where we contemplated life and what crossroads/challenges we face at the moment.  Then moved on to Trinity Church,  which is again about life.  As one looks to the doorways and arches we are drawn to numerology and what the message is here for us. Here Glenda and Jennifer found it to be a place where they could connect to their intent for the day.  For me this church is about the seven stages of life and the Divine Feminine.
After the church we went to Saint Kevin's Well where we did a meditation and attached some ribbons to commune with the elementals. Eileen felt that this was a place of great release of letting go as we blessed ourselves in these sacred waters.
Next we moved to St. Marys Church, a church which is not frequented very often as one has to cross a field to get to it. It is a very special place a place of great tranquility, peace and balance with a magical doorway to meditate under. It is a place of perfect balance and here we did some sound healing with a very special healing bell. Glenda had a vision and mystical experience during the healing. Eileen and Jennifer saw lots of colors. Helen said she felt a deep peace.
At lunch we took a break for a bowl of vegetable soup and some brown bread at the Glendalough Hotel before moving on to the main part of the site. As we walked in we stopped and looked at the entrance with its two arches, both with 27 stones, 13 at each side of the Godhead. In ancient times people entered the monastery and upon passing the first arch stopped and let go of the trappings of the outer world before they could proceed through the second archway into the inner world to do their inner work. We each followed the ancient practice and walked quietly to the round tower with its seven levels, each person experiencing in their own life what level was being touched for them.
Our next stop was the Church of Saint Kevin.  This is another church of perfect balance as one looks at the doorway and its inner archway, with twelve stones at each side of the Godhead. Here Beth and Helen felt a deep peace and by now Beth had taken to meditating under each doorway. We then moved to the Celtic Cross where we joined hands and made our own special wish.
From there we walked the green road, experiencing waterfalls and magnificent trees, walking across the bridge and climbing the steps to St Kevins Cell. Here we meditated and enjoyed the view of the two lakes below us as each person pondered the beauty of this holy place.  Our last spot was Reefert Church my own personal favorite spot. Here is where I believe St Kevin is buried. Beth, Jennifer, Glenda and Helen all experienced a sense of great tranquility and again Eileen and Glenda had visions of colors and faces as they meditated under the archway and stood in a vortex of amazing loving energy which wrapped itself around them.
This brought our day at Glendalough to a close and we departed for our hotel in Killiney to change before we went out for the evening to experience an Irish Cabaret full of singing and dancing along with a wonderful meal at The Merry Ploughboy.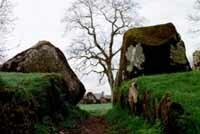 Day 5 – Lough Gur, Goddess Aine, Grange Stone Circle
Leaving Dublin we traveled to Lough Gur where we encountered the Goddess Aine.  She is the guardian here, not only of the lake, but also of the land.  As we stood on the shore of the lake she gave each of us a message.
We then moved to an ancient neolithic site with its magnificent stones. Here Glenda and Jennifer connected with the site's resonance of young people and it festival like energy. All of the group felt the special ceremonial/festival energy here.
Later we went to the Grange Stone Circle which is associated with summer Solstice. This is site that needs to be experienced to get it.  It has a fairy energy which can only be felt and a special fairy seat.  Glenda got us all to sit on the fairy seat after she had a wonderful encounter with a fairy. Here Helen felt that this was a place of great teachings and that people came here to partake of the wisdom. We did a wonderful healing circle in the middle of the stone circle before heading off to Adare for afternoon tea on our way to Killarney.
Day 6 – Muckross House, Muckross Friary and Yew, Killarney Lake and Town
This morning started with a wonderful tour of the stately mansion and museum called Muckross House.  With calendary precision it has exactly 365 windows and 52 chimneys.  We were all in awe as we saw how people lived in the 18th century and special preparations that had been made here for Queen Victoria's visit in 1861.  Each person was imagining what it was like to live in those times and be a part of such an event.
This is truly a magical place with maginficiant trees and manicured gardens, sitting against the shores of the Lakes of Killarney.
After the house tour and exploring the gardens and lake we went to the Muckross Cafe for lunch with all its choices of fresh organic cuisine, before setting off to visit Muckross Friary and its yew tree which grows in a center courtyard.  This yew is indeed special and unique as the Friary was actually built around it.
Glenda and Jennifer were fascinated by the abbey and experienced the ley lines that run through the Friary. Eileen was in awe of the yew tree and its legend which says that if anyone harmed the tree they would be dead within twelve months.
We finished up the day with a visit of the town of Killarney itself where we explored the shops and made some purchases adding to the weight of our bags.
Day 7 – Early Communities of Ireland, Beehive Huts, Dingle Peninsula, Gallus Oratory
In the morning we departed our hotel in Killarneys and traveled towards the Dingle Peninsula, stopping on the way at Inch Strand to watch the surfers and dip our toes in the Atlantic Ocean  before proceeding to Dingle. There we stopped for a bathroom break and a cup of tea and scones with jam. Here we also purchased mood rings and some of Murphy's famous gourmet ice cream.
Then we started our adventure of the peninsula, first stopping to explore the beehive huts and early community living. Here Helen wanted to stay and become a hermit as the place was so peaceful.  Wee had a lovely chat with the lady who owns the land on which this ancient beehive community sits. She is almost 90 years of age and still travels to Long Island, New York to visit her daughter and son-in-law.
She gave us her blessing and we moved on to Gallarus Oratory which looks like an overturned boat built of stone.  It has amazing acoustics where we chanted in a circle and spent some time in silent meditation. Eileen and Beth really resonated with this site, seeing colors and faces as we chanted.
Our next stop was Kilmalkedar Church with its sundial and ogham stone. At the standing stone we followed tradition as we each pulled a handkerchief through it and made a wish. This stone is part of the ancient folklore surrounding a contract written in stone. We had lots of fun here as each person made their wish, with Glenda showing us how to clear the handkerchief after each pull through.
Then we went into the church and experienced the ancient carvings on the wall of this church associated with Celtic Christianity and next door to Saint Brendan's house.  Jennifer went off in search of gravestones with the name Lynch and Browne, as these names are part of her ancestry with her Grandmother coming from Belfast.
Later we traveled to Portmagee where we overnighted and had a wonderful gourmet meal at the Moorings Restaurant.  There was Irish music and dancing in the pub next door and Jennifer ventured in, coming back with many tales to us over breakfast about her evening and all that happened.
Day 8 – Skellig Michael Adventure, Monastery and Kenmare Stone Circle
This morning we got ourselves ready for a major excursion, approximately 50 minutes out into the Atlantic. Our boat trip to Skellig Michael was an adventure in itself with waves taking us to new heights. Finally we get Skellig Michael, quite a sight to see, standing in the ocean and proudly soaring 600-odd feet above sea level with its beehive monastic community that was founded in the 6th century and continued to be an active monastery until the 12th century, at which time they moved it to the mainland.  After that it was used only for retreats.
The community was raided many times by the Vikings and one wonders how the Vikings had the energy to climb the steps, especially as we were struggling to climb the 620 steps to get to the top.  However, it was well worth the climb when we experienced the oasis of peace that makes up the community, sheltered from the prevailing winds.  It has its own water storage system, beehive huts, and a community building and a church.
The pathway leading up to the church is of white quartz which gives all who walk on it as they enter the beehive church an immense feeling of joy. Glenda felt that she had been here before and she felt great peace and love as she wandered about. After experiencing the monastery we now had to make our way back down the 620 steps to our boat and back to the mainland.
After a quick lunch in the pub we departed for Kenmare and its very unusual Stone Circle. Immediately upon entering it Jennifer felt totally at home, knowing that she had been here before.  She was inspired and started dancing around the circle and described to us what it was like in ancient time at the May Day Festival. This is truly a Goddess site, a place of perfect balance between the masculine and the feminine at its center alter stone.  We took turns at the altar stone as we each lay on in, receiving the energy that was right for each of us.  Jennifer received healing, Eileen saw faces and colors, Glenda saw herself being showered with flowers and so on. Each person had a magical experience and it was the perfect closure to a perfect day.
All that was left was for us drive to our hotel in Glengarriff to rest, have a wonderful dinner and meet my brother Michael and his wife Marion who joined us for dinner and Irish music.  So another day cames to a close and we all went to bed, grateful for all that we experienced today.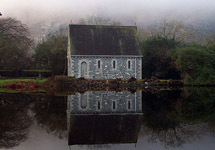 Day 9 – St. Finbarr's Monastery, Holu Well, Glengarriff and Garnish Island and Gardens
Our eighth morning together we got a late start, visiting St Finbarr's Monastery in Gougane Barra. This is a magical place, on the shores of a small lake, which is also the wellspring for the River Lee. We visited the oratory and the monastery with its ancient cells, experiencing for ourselves what it felt like to live in one of these cells. Gougane Barra is a place of great tranquility and healing and here at the Holu Well I did some emotional healing work with Jennifer while the rest of the group held the energy.
We all experienced the waters of the lake and the holy well before heading back to Glengarriff and our ferry ride to Garnish Island, a special island in Glengarriff Bay, where the gulf stream hits Ireland and creates a unique environment.  The island has a beautiful garden with many plants from around the world.   It includes an Italian Garden, Martello Tower, a walled garden and a Grecian Temple. The temple has a magnificent view, aligned to take full advantage of the beautiful bay and background landscape at sunset. We did a ceremony here and each of us were again taken to a place of tranquility. We departed the island and went back to our hotel for a rest and a wonderful dinner bring to a close another perfect day.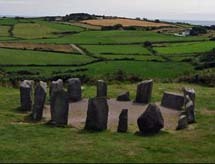 Day 10 – Druids Altar, Blarney Stone, Witches Kitchen and Wishing Steps
Today we had a magical day with our first stop being at The Dromberg Stone Circle and Druids Altar. This site is aligned to the setting sun on winter solstice and is a major initiation site. It consists of a powerful stone circle with an unbelievable altar that holds an enourmous vibration.  Lying in the center you are transported to another dimension.  Out of our group Eileen, Gayle and myself all felt this experience strongly. The stones here awaken one to the current situations in their life.
After our experience in the altar itself, we then proceeded to the altar temple on the site and to the fire temple where each person had time to experience the energies there. Everyone felt an opening of the crown chakra as we did a water initiation.
We then traveled to Blarney and had lunch before exploring the magnificent gardens with its Druids Glen and Witches Kitchen.
There is an amazing array of stone circles and ceremonial sites here along with the wishing steps.  The Wishing Steps are a unique site, with 25 steps.  The tradition is to walk down backwards with your eyes closed as you wish and then climb up again. Each person in the group did this. Beth especially loved the Wishing Steps, while Glenda felt at home in the Witches Kitchen. Blarney is a magical fairy land with beautiful, peaceful energy where one just wants to relax and meditate and stay forever.
This is also the site of the famous Blarney Stone, where legend says that kissing the stone gives the kisser the gift of eloquence.  It is a bit tricky, as you lay on your back over the castle precipice with the help of an assistant to be able to reach the stone.  No one in our group chose to climb the steps to kiss the Blarney Stone, so alas no more Blarney.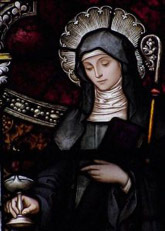 Day 11 – Saint Brigid of Kildare, St. Brigid's Flame, Cathedral and Holy Well
This morning we traveled to Kildare and met with Sr. Mary who is the guardian of the Saint Brigid Flame, a flame that burned from the 5th century until the reformation and was rekindled again in 1991. St. Brigid is one of the most popular saints in all of Ireland.  She was a bridge between the pagan and Christian, coming from a background as a Druid Priestess and converting to Christianity.  To this day she is loved throughout the countryside.
We had a wonderful time with Mary who entertained us with stories of Brigid and their work to carry on Brigid's tradition of  peace and justice. She taught us the Brigid Dance and Glenda, Eileen and Helen all loved the dance.
We next ventured to the Cathedral where Glenda and Beth had very moving heartfelt experiences as this was where Brigid had her first monastery and fire temple. There is also a holy well where each person in the group was given the opportunity of letting go what was no longer relevant in their life.  Each person was visably moved by the experience and this was a most fitting way to complete our trip together, after all our alignment of energies, connection to source, to the sacred sites and power, opening our hearts, we then had the chance to let go and be renewed.
This last night together we were all in so much gratitude of the time we spent together.  We finished up with our time at the holy well and then traveled back to Dublin for our farewell dinner and a last chance to share our stories and insights.