Set in the remote and peaceful valley of Ranakpur are the most beautifully preserved Jain Temples in India. Built in the 15th century, these temples are known for being the largest and most important temples in the Jain religion.
The main temple dates back to 1439, and is called the "four-faced temple". It is dedicated to Adinatha, one of the founders of the Jain religion whom the Jainists hold is the "Original Lord" and first Tirthankara, responsible for formulating and organizing humans to live in a society harmoniously and the dharma of compassion.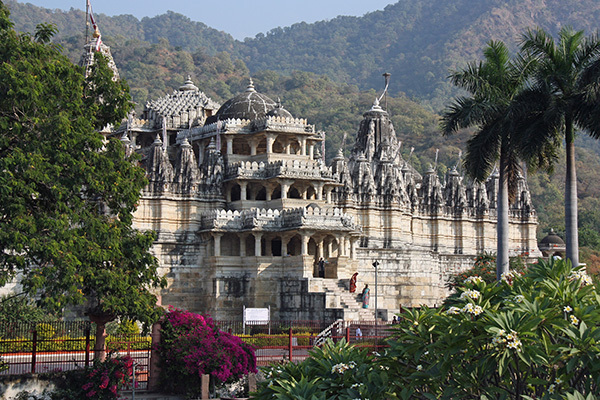 This spectacular temple is constructed of light-colored marble, but is very different, architecturally, from the Persian and Mughal-influenced style of the Taj Mahal. Covering an area of 48,000 square feet, the Jain Temple has 29 halls, 80 domes, and is supported by 1,444 marble pillars, each of them intricately carved yet no two are alike. Each one is completely unique and carved in exquisite detail – each statue faces one or another statue, creating the visual illusion of both endlessness and individuality. Sequential spacing and boundless variety are combined blissfully with the immaculacy of white all over. One statue, carved out of a single marble rock, has 108 heads of snakes and tails. One cannot find the end of the tails.
The stunning Jain Temple is considered to be the supreme example of its architecture. Join us on this unique spiritual journey to India as we visit the Jain Temples and come away from our experience fascinated, purified, and uplifted.
This sacred spiritual journey to India is for you!
Feel the transformation and the shift in your life as you feed your soul.