Journey with us to the medieval city of Siena, known for the Palio, the Palazzo Pubblico, and the Duomo, Siena's beautiful Gothic cathedral. The 14th century Duomo is a Piasan-influenced Romanesque-Gothic church containing masterpieces by Donatello, Michelangelo, Pisano and Pinturicchio. The Duomo was built on top of a pagan temple dedicated to the goddess Minerva. It is filled with wonderful treasures. The baptistery contains amazing frescoes and a font created by Donatello, and inside the main nave there is an inlaid marble floor with 56 square slabs, each depicting a scene that tells a story. These masterful and inspiring creations date from 1349 to 1547 and were created by different artists, almost all of whom were from Siena.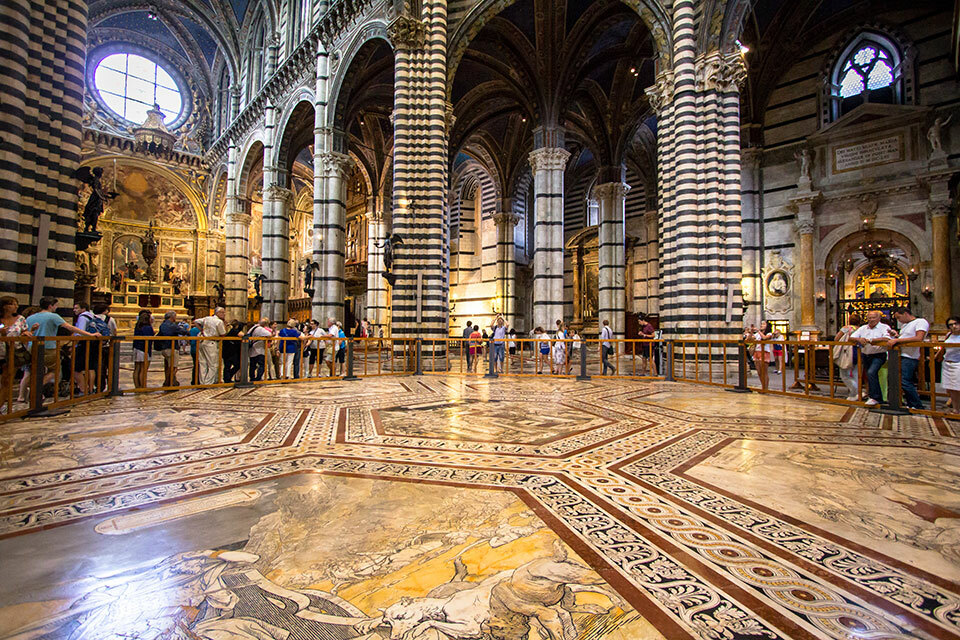 Nothing can prepare you for what you will experience inside. From the striking black and white columns to the gold stars that adorn the ceilings above you, the Duomo captivates its visitors with its unmatched beauty and splendor. Walking around the Duomo is a visceral experience for many, with its abundance of ancient art and beautiful statues, from Donatello to Michelangelo; from Bernini to Pisano. The magnificent fresco cycle by Pinturicchio decorating the walls of the Piccolomini Library is one of the finest in the world.
The Duomo's "Gateway to Heaven"
A section of secret passages, spiral staircases and internal walkways was recently opened up to visitors after remaining closed for 900 years, providing an astonishing view of the cathedral ceilings, as well as the Siena skyline. The newly opened "gateway to heaven" allows visitors to enjoy a unique aerial view of the extraordinary mosaics that cover the marble floor, as well as a closer proximity to the ornate vaulted ceilings. At nearly 50 feet in the air, these walkways in the roof of the Duomo are not for the faint of heart, but are definitely worth the ascent.
Precious wonders await us in Siena as we explore the beautiful Tuscan countryside; it is an enchanted land calling us to awaken to higher levels of awareness on our journey through sacred Italy. Join me as I help us unravel the many mysteries we will experience in this sacred place.
Blessings, love and light,

Finbarr