I'd like to share with you more news from the Camino tour and an update on special experiences we shared…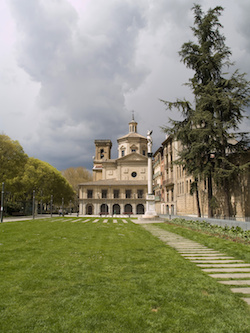 Our adventure continued as we traveled the pilgrimage route over the Pyrenees to our first pilgrimage stop in Spain – Roncesvalles. This is a very special place with very special stop for pilgrims with accommodations, meals and a very special church which houses a gold Madonna that wants you to linger for some time with her. We moved on to Pamplona founded by Roman general Pompey, with its beautiful cathedral very different from French cathedrals in every way – decoration, statues, symbols, energy, etc. The cathedral is considered one of the best examples of Gothic architecture in the world. It also houses the largest bell in Spain known as "Maria". (By the way, Pamplona is also famous for the Running of the Bulls.)
Here we had our first experience of our travels with eating dinner at 9.00pm (which the Spanish do) as this was the earliest we could find a place open for dinner. We overnighted in Pamplona and traveled on to Burgos.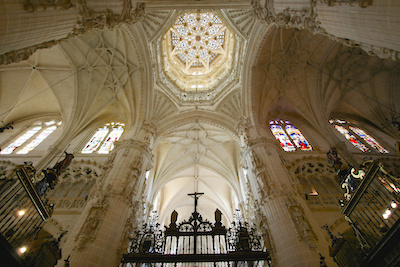 Burgos sits on the banks of the Aranzon River with its Flamboyant Gothic 13th century cathedral containing many unique treasures including the tomb of El Cid and his wife. Here, one really has the feeling of being a pilgrim, a very special place which touches you deeply in the heart.
When we were in Lourdes we were talking about the Marion suites around Europe and the world when I told my traveling companion about a place in Spain where Mother Mary appeared to 4 children in 1961 and continued to do so until 1965. On two previous occasions while I was traveling this part of Spain, I tried to get to Garabandal without success, but this time everyone wanted to go and experience this special place. Off we went, and the journey took us up into the mountains from Burgos for almost 3 hours before we reached our destination. Upon arrival we met some very lovely people who were very helpful and directed us to the place where the apparitions appeared in the Pines. This was indeed a very magical place with an amazing story and energy. You can Google it and read all about it. We were very blessed by the experience, and after having some homemade soup, we set off for Leon.

Leon, with its 2nd century Gothic cathedral set among twisting alleys and a half-timbered old town, is on the Plaza de Regla. It has within it the Virgen de la Esperanza. A short distance away is the magnificent and amazing Basilica of San Isidoro, built in 1063, with its treasury housing many Black Madonnas honoring the Divine Feminine. This was definitely the highlight of our Camino pilgrimage in Spain so far, just absolutely magnificent; we were floating when we left here. Leon is known for its chocolate delights, so we had to partake of some, and they were just great!
Our pilgrimage in Spain was nearing its end as we reached Santiago De Compostela, our final destination, with lots of pilgrims whom we watched for two mornings as we ate breakfast line up to get their passport stamped and their certificate.  The original cathedral of 819 contains the relics of St. James and is currently a 13th century Romanesque marvel. Here we had many wonderful experiences and we met a lovely cleaning lady who let us into two private chapels to touch and experience two Black Madonnas – all of this on top of our experiences with Saint James and the swinging incense bowl which takes 4 men to swing it on a rope! Just incredible.
Our Journey in Santiago De Compostela came to a close after two days, and our group split with some going to the airport to start their journey home and the rest of us traveling on to Fatima to experience Our Lady of Fatima. Fatima is very different to Lourdes and much less hectic. This time I had a different experience from my two previous visits there, as they are currently renovating the Basilica for the 100 year anniversary in 2017, so there was a lot of construction going on.
After two nights in Fatima (which is a very beautiful place) I dropped the Fatima participants at the Lisbon airport and headed for Toulouse and the Angel Sanctuary in Alet and then to London to start the England tour. 
Blessings, love and peace,
Finbarr