Water sign Cancer is the Mother of the human family, linking to the ocean of consciousness from which it emerged. Cancer represents the physical body; it also concerns soul consciousness that seeks to inhabit that form – as a hermit crab will appropriate a shell. (Hence the reason for baptism to crack the shell and allow the gifts of the mother to flow in our lives.) This consciousness is reflected in the highly refined forces of Cancer's soul ruler Neptune, whilst the form nature is represented by the Moon, the exoteric ruler of Cancer.
Cancer rules the stomach and breasts – both associated with nutrition and nurturing, hence the month of Cancer is always a good opportunity to review diet and health issues; to recognize the intricacies of our digestive system and of the body and nutrition.
Cancer is also associated with the 3rd Ray of Active Intelligence. It is also associated with the 7th Ray of Ceremonial Order and Magic. Saturn and Uranus are the rulers of these two rays, respectively – they are the manifesters and builders, the bringers of the new dawn, the new dispensation. They create the container of Cancer, the chalice or cauldron. Ray 3 and 7 contribute to Cancer's organizational ability and the managing of resources. So it is for opposite sign of Capricorn as ray 3 and 7 pour through Capricorn also.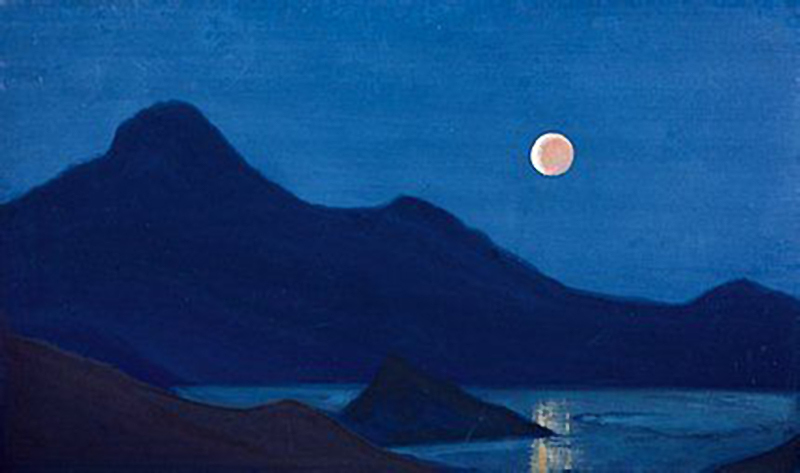 Painting by artist Nicholas Roerich
On the July 2nd new moon, there was a total solar eclipse – lunar and solar eclipses follow one another cyclically, with a lunar eclipse at this Cancer full moon on July 16th. These two eclipses in the sign of Cancer are very important because they are linked to another future eclipse in the opposite sign of Capricorn this coming December 26th, 2019.
We will reflect as we meditate on the effects of the full moon and the eclipse on our lives as we once again make a shift in consciousness.
As you know, Mount Shasta is associated with the Seventh Ray and Master Saint Germain.
See you on the full moon from Mount Shasta on this very special occasion. 
Blessings, love and light,
Finbarr 
---
Join Finbarr Ross for a Full Moon Meditation from Mount Shasta with a Golden Flame of Illumination meditation and a reflection on the effects of the full moon and the eclipse on our lives during this very special occasion.
Tuesday, July 16th, 2019
~
9:00pm Eastern
8:00pm Central
7:00pm Mountain
6:00pm Pacific
2:00am UK
Please take note of our new dial-in numbers:
(669) 900-6833
US (San Jose)
(929) 436-2866
US
+1 (647) 558-0588
Canada
or find your local number