A spiritual tour of the ancient sacred sites of Peru with an extension to Bolivia
Discover local spiritual culture, unique sacred sites, shaman & special ceremonies with Finbarr Ross and Flo Magdalena! Awaken ancient wisdom and your inner power/knowing with local healers and Shaman.
On our Sacred Tour of Peru and Boliva, we invite you to experience the incredible land of Peru, a land rich in tradition and spiritual wisdom, with Flo Magdalena who will co-lead this sacred experience with Finbarr Ross. Flo is the author of I Remember Union: The Story of Mary Magdalene, along with Sunlight On Water and Honoring your Child's Spirit.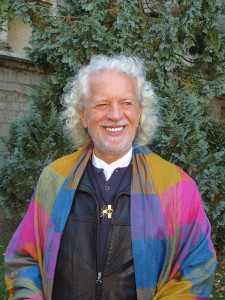 Finbarr Ross is a facilitator of the Mary Magdalene and the Grail legends. Finbarr is a mystic, ceremonialist, healer and process facilitator of self discovery and spiritual wisdom, awakened consciousness on the ascension path of self-realization, a native of the Emerald Isle and your co-guide on this exciting journey along with our local Peruvian guide.
Introduction – Sacred Tour to Peru and Bolivia:
Peru is a place that calls to the heart of those who are ready for a spiritual experience in the way of the Shaman. Our Sacred Tour to Peru is a journey to self-discovery. We will awaken to the ancient wisdom and inner power within each of us as we walk the sacred sites and spend time with local healers and Shaman. On this spiritual journey, we experience ancient temples, sacred sites, the Sacred Valley, the Crystal City in the Clouds, Ollantaytambo, Chincero, Temple of the Condor, Machu Picchu, Cuzco, Sacsayhuaman, Uros the floating islands and Taquile, Lake Titicaca, Doorway of Lord Aramu Muru, Aguas Calientes hot springs and much, much more.
As we travel and share on this sacred journey with like-minded people we weave a tapestry of group consciousness. We experience all that this Sacred Tour to Peru has to offer as our Peruvian guide introduces us to local spiritual culture, unique sacred sites, shaman and special ceremonies while we explore the magic and mystery of Peru.
In this mystical land our deep inner wisdom and knowledge awakens as we surround ourselves with the beautiful energy of the Apus, spirits of the Andes mountains, valleys, rivers, ancient energetic sites, and the gentle hearts of the Peruvian people. This beautiful land is steeped in magic and mystery, and in Machu Picchu you can hear the voices of the ancient ones in the wind.
This Sacred Tour to Peru offers an extension to Bolivia:
Tiahuanaco the great pre-Incan City: we will visit the temples of Kalasasaya, Akapana, and Pumakunki with a hydrofoil cruise to Moon Island. We will visit the Sun Virgins Temple "Iñak Uyu", and continue on to Sun Island to visit "Pilcocaina" Sun Temple. Llama trek to Posada del Inca. Huatajata, Chincana, Moon Valley and La Paz.
Sacred Tour to Peru and Bolivia Itinerary
Day 1: Cuzco/Sacred Valley
Meet Finbarr at Ramada Costa del Sol, Lima airport at 7:30AM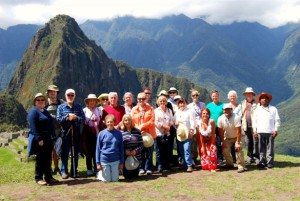 After an early morning arrival in Lima, we connect with our flight to Cuzco, (domestic flight approx. 9AM Lima to Cuzco) the capital of the Incan Empire located high in the Andes Mountains.
We will be met by our local Peruvian guide before boarding our private bus for a scenic drive to the Sacred Valley of the Incas. This will be a slow and relaxing day giving us time to acclimate to the higher altitude and adjust to our Andean Mountain surroundings.
This evening under a blanket of stars, we will share a fire ceremony where the Queros will make the offering and burn the despacho.
Overnight at Agustos Hotel Sacred Valley. (B, L & D)
Day 2: Sacred Valley/Ollantaytambo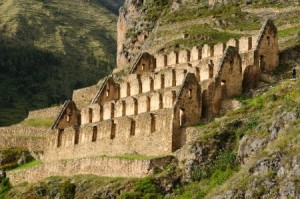 This morning we will explore the original Incan town of Ollantaytambo (City of Dawn) with its stone streets and original aqueducts. We will visit the main altars and temples dedicated to the power animals of the Andean world. Discover the natural stone Temple of the Condor and perhaps the Apus (mountain spirits) will bless us with a visit from the Queros, (elder healers from the high Andes) sharing a despacho ceremony.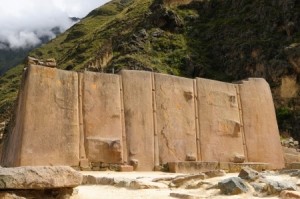 After we enjoy an early afternoon lunch at a local restaurant, we will return to our hotel where you will have some time to rest and relax or explore the hotel grounds before we meet for dinner.
Overnight at Agustos Hotel Sacred Valley. (B, L, & D)
Day 3: Sacred Valley/Chincero/Moray
Early this morning we travel to the colorful market and ruins of Chinchero. This market offers a wonderful opportunity to buy woven goods, wall hangings, rugs, pottery, and many other types of handicrafts, as well as wonderful photographic opportunities. Observe the traditionally dressed campesinos coming to barter and sell their produce at the market.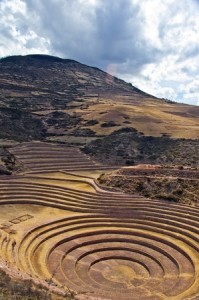 We'll visit an artisan's workshop where expert weavers demonstrate the process of dyeing alpaca, llama, sheave, and wool textiles using natural and organic vegetables and minerals in the way the Quechuas (Incas) did hundreds of years ago. We will also explore the ancient city of Chincero which was occupied by the Wari culture well before the Incas. Observe the remains of shrines and rock sculptures of pumas and the wall with large trapezoidal niches big enough to stand up in.
Thereafter we visit Moray, just outside the small town of Maras. This is a mysterious, fabulous Inca site which is off the usual tourist trail. Circular concentric terracing, which at first glance looks like a huge amphitheatre, forms a huge bowl. Stone stairs built into the terrace walls allow you to go down to the very bottom, central circle. From here the view is all encompassing, surrounded by the circular shapes moving upward and the blue sky above; this is a place to move back into the center of yourself.
Continue to visit the Salt flats of Maras. This salt is extracted by evaporation; the water comes from a natural spring from the inner of Pachamama/Mother Earth. It is a mineral salt with healing properties and it has the Photonic energy of the sun stored on the waters, containing 84 minerals like magnesium, calcium, and iron which may be very good for our health.
Overnight at Agustos Hotel Sacred Valley. (B, L & D)
Day 4: Discover Machu Picchu
This morning we board the train for a 1 1/2 hour beautiful scenic ride along the sacred Urumbamba River to Machu Picchu. Upon arrival in Aguas Calientes we check into our hotel and then we begin the journey by bus up the mountain to the Lost City in the Clouds, Machu Picchu. After a brief stop at the café to buy snacks and sandwiches to carry with us, we enter Machu Picchu and begin to explore the main power spots and temples of the Sacred Crystal City as Machu Picchu shares some of her secrets with us. Afterwards, we will enjoy lunch & snacks on our own at café at Machu Picchu. After lunch we experience a ceremony with a local shaman.
Overnight at El Santuario Hotel - Machu Picchu Village. (B & D)
Day 5: Sunrise Ceremony at Machu Picchu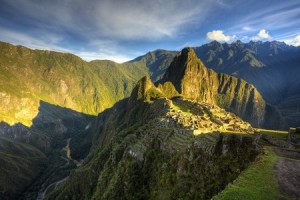 In the early morning we take the bus up to Machu Picchu for a sunrise ceremony with Finbarr and our local Peruvian guide. We begin the day by offering our blessings to the spirit of Pachamama (Earth Mother). After the ceremony you may spend the day at leisure on your own in Macchu Picchu, or do an optional hike to the Sun Gate, Huayna Picchu or Temple of the Moon. You may also want to take some time and explore the many shops in Aguas Calientes.
Overnight at El Santuario Hotel – Machu Picchu Village
Lunch on your own. (B & D)
Day 6: Machu Picchu/Cuzco
After breakfast we will experience an optional private sound ceremony for the group with a local shaman at his mystical shop.
Free time in Aguas Calientes to shop and have lunch before our late afternoon train back to Cuzco.
Lunch and dinner on your own. Overnight at Los Portales Hotel - Cuzco City. (B)
Day 7: Ancient Sites of Cuzco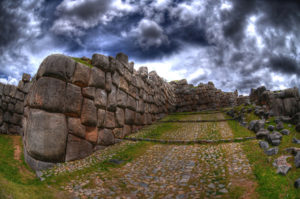 This morning we travel to the outskirts of Cuzco and visit the huge ceremonial center of Sacsayhuaman, marked by the huge stone paw of the Puma. We will feel the energy and honor each of these sacred places. Here you can appreciate the size and precision of the stonework of Inca people. There are cut stones larger than a tall man, each lined up perfectly with the other stones. Moderate hiking required.
There are several powerful energy vortexes at this site.
After lunch, we will return to Cuzco, and the afternoon is free for you to shop, visit the cathedrals and explore the wonders of Cuzco on your own. Dinner on your own tonight.
Optional opportunity for anyone who wants to experience Ayahuasca with a shaman at a local temple.
Overnight at Lost Portales Hotel - Cuzco City. (B & L)
Day 8: Incan Altar Sites of Cuzco/Sicuani City
This morning we will check out of our hotel in Cuzco and spend some time visiting some of the other main Incan altar sites around Cuzco. At Tambomachay we connect with the Unu or water element balancing male and female, and explore the site of Qenqo where the Puma awakens and Puca Pucara. We also visit the Temple of the Moon.
A boxed lunch will be provided today to enjoy at your leisure as we return to Cuzco and then continue our trip by bus to Sicuani City for two and half hours.
Overnight at Wilkamayu Hotel - Sicuani City. (B, L & D)
Day 10: Uros the Floating Islands/Taquile
Today we board a boat to cruise on spectacular Lake Titicaca. We will visit the floating reed islands of the Uros Indians, who created these man-made islands centuries ago to live on in order to escape the warfare throughout the area.
Then experience Taquile Island, a remote surviving center of Incan culture. (It is also in this area around Taquile Island that there have been numerous sightings of UFOs, which are sometimes said to immerse themselves deep within the water.) We will enjoy the exhilarating feeling that emanates from this sacred lake: a crystalline like awakening within us, the ascension energies of the second coming and the Atlantian energies. A soothing and nurturing sense envelops people here, which is a wonderful way to culminate this part of your spiritual odyssey.
Overnight at Taypikala Hotel - Puno City. (B, L & D)
Day 11: Doorway of Lord Aramu Muru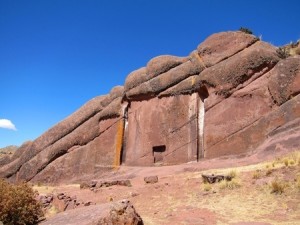 Here we experience Hayu Marca, the site of mysterious ruins discovered only in recent years. The door or the "Puerta de Hayu Marca" (Gate of the Gods) was, at some time in the distant past, carved out of a natural rock face and in all measures exactly seven meters in width with a smaller alcove in the center at the base.
Special ceremony with Local Shaman. Special farewell dinner.
Overnight at Taypikla Hotel - Puno City. (B, L & D)
Day 12: Lake Titicaca/Depart Peru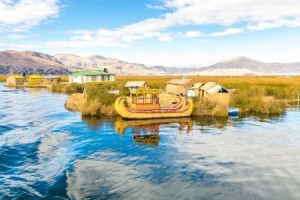 As this is your last day at Lake Titicaca, you will have the morning free to rest, spend some private time by the lake or do some final shopping before your departure. After lunch you will transfer to the airport for your afternoon flight from Juliaca to Lima. 3:30 flight Juliaca / Lima – 1 ½ hr flight.
After collecting your luggage in Lima, there will be time to have a snack at the airport before checking in for our late evening flight from Lima to your home city grateful for all that you experienced. (B & L)
Day 14: Chincana Ruins
Early visit to Chincana Ruins. The Pre-Inca temple of Chincana (Labyrinth) is located south west of the sacred rock at the north side of Sun Island, offering impressive views of Lake Titicaca. The Chincana contains trapezoidal doors and niches which were lately adapted during the Inca period. These ruins were believed to be a support facility for the Island's Shrine, housing the maiden who took care of the Shrine. Box lunch included.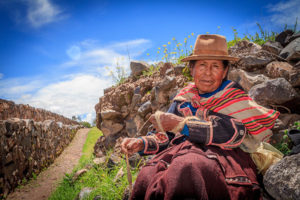 Afternoon Hydrofoil cruise to Huatajata. On arrival, we visit the Andean Roots Eco Village: The Altiplano Museum; Handicrafts village, the Mud Igloos and the mortuary towers of the Urus Chipayas. Enjoy our elegant vicuñas, llamas, alpacas and the mythical Suri. Audiovisual and night experience of the Mystic World of the Kallawayas; natural healers of Bolivia. They believe that you first have to heal the soul in order to heal your body. Tata Benjo, our Kallawaya, will bless visitors and answer questions by casting his sacred coca leaves. Welcome drink & candlelight dinner. Night visit to the Native Observatory, Alajpacha. Learn from the Aymaras Cosmovision & watch the Southern constellations.
Overnight at Inca Utama Hotel & Spa. (B, L & D)
Request This Tour