Experience the Goddess/Divine Feminine on a Sacred Tour of Malta and Sicily
Travel to stunning Malta & Sicily and connect to The Goddess/Divine Feminine. These beautiful majestic lands will stir your soul as you experience and explore your own Sacred Union within. Graced and kissed by the sun, these islands invite us to engage with the world's oldest Sacred Goddess Temples, and to align ourselves with the Feminine Principle. Experience Mary Magdalene and her energetic frequency in Malta.
Join tour leader Finbarr Ross on this magnificent journey of discovery. A modern day mystic, Finbarr is a facilitator of Oneness: self realization through awakened consciousness through the 13 gateways, the Ascension process, the Feminine Principle, the Divine Feminine, the Second Coming, the Golden Flame of Illumination, Mary Magdalene and the Grail legends.
Malta is a gorgeous, green-carpeted land, with blue skies surrounded by crystal-clear azure seas. As you journey, you are embraced by the energy of the Island of Dreams. Experience the honey-colored temples, many with underground chambers and sculptures that reveal dedication to and celebration of the Goddess.
Explore some of the best-preserved temples from six thousand years ago – Hal Saflieni Hypogeum, Tarxien, Mnajdra, Skorba, Hagar Qim and Ggantija, with an opportunity to make a divine, conscious connection with the energies of the Goddess. Alluring and intimate, the islands of Malta and Gozo still have dozens of these Neolithic sacred sites, all of which predate Newgrange, Stonehenge and the Pyramids.
Throughout history, Malta has been occupied by Sicilians, Phoenicians, Carthaginians, Romans, Arabs, Normans, Knights of St. John, Napoleon, and the British. As a result, Malta has a fascinatingly rich and diverse cultural heritage, including churches as well as ancient temples.
As you journey with the ancient wisdom, beauty, and energies of the divine Goddess, be prepared for a transformational experience as your heart opens to be touched by the Divine Mother.
Sacred Tour of Malta and Sicily:
Oct 8th – Friday – Day 1: Arrival in Malta/Welcome Dinner
Arrival: You will be greeted at the airport and transferred to our hotel. Welcome drinks at 6:30 pm, followed by group dinner as the group gets to know one another. (D)
Oct 9th – Saturday – Day 2: Valetta/St. John's Co-Cathedral/Bugibba
We begin day two of our Sacred Tour of Malta and Sicily with a morning visit to Valletta, where we will experience the Barrakka Gardens, the Archaeological Museum (where we'll take special note of the Sleeping Lady of Malta and the Fat Ladies of Hagar Qim), and St. John Cathedral.
Lunch on our own.
After lunch, we'll explore Malta's National Museum of Archaeology, a Maltese museum of prehistoric artifacts with some dating from the Ghar Dalam phase (5200 BCE), the earliest appearance of settlement on the island, up to the Tarxien phase (2500 BCE).
Next, we'll visit St. John's Co-Cathedral, a gem of Baroque art and architecture, built between 1572 and 1577 for the Knights of St. John. The Cathedral contains eight amazing chapels, each dedicated to a patron saint, as well as stunning works of art donated by the Grand Masters and several knights.
In the late afternoon, we visit Bugibba, a Maltese village within Saint Paul's Bay in the northern region of Malta. Bugibba is a wonderful place which vibrates with the energies of abundance and prosperity.
In the evening, we'll enjoy dinner in a local restaurant. 
(B, L & D with wine)
Oct 10th – Sunday- Day 3: Mdina/Mosta Dome
Today we continue our Sacred Tour of Malta and Sicily as we head to Mdina, to explore the old capital of Malta (also called "the city of Nobles"), the suburb of Rabat, and the Mosta Dome.
Mdina is a medieval walled town connected to Malta's Phoenician settlers. Its history traces back more than 4,000 years. Lamp-lit by night and referred to as "the silent city," Mdina is known for its timeless atmosphere as well as its cultural and religious treasures.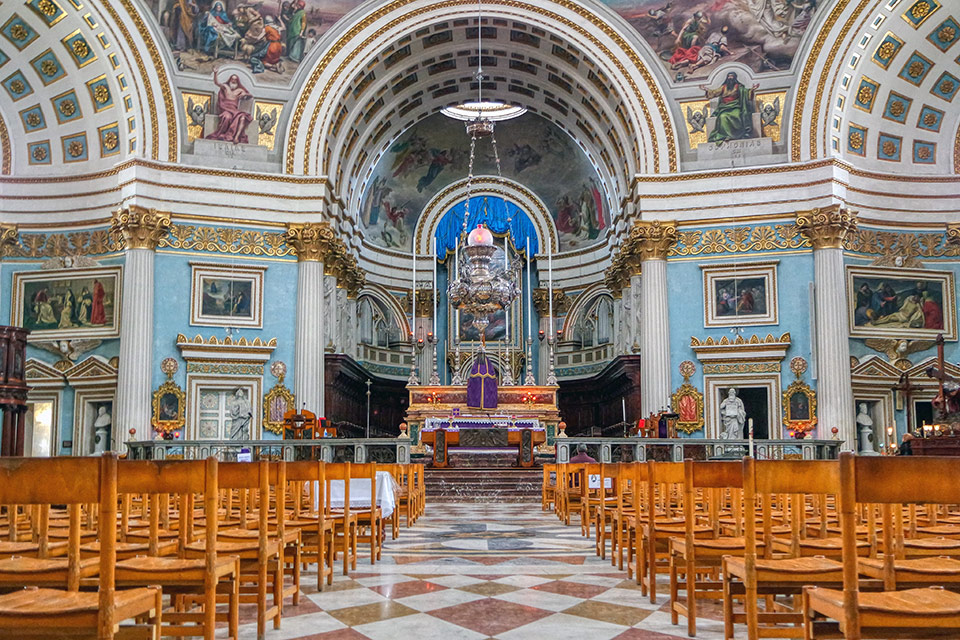 According to tradition, in 60 A.D., St. Paul is said to have lived here after being shipwrecked on the Islands. Furthermore, it is said that St. Paul resided inside the grotto known as Fuori le Mura (outside the city walls) now known as St. Paul's Grotto in Rabat.
Next, we'll visit the Mosta Dome, also referred to as the Rotunda of St Marija Assunta, the third largest unsupported dome in the world. This sacred site is dedicated to the Assumption of Mary celebrated on August 15th, and the dome's vibrant energy and unique architecture is sure to inspire.
Dinner at the hotel and overnight.
 (B & D with wine)
Oct 11th – Monday – Day 4: Gozo Goddess Temples/Dwejra/Victoria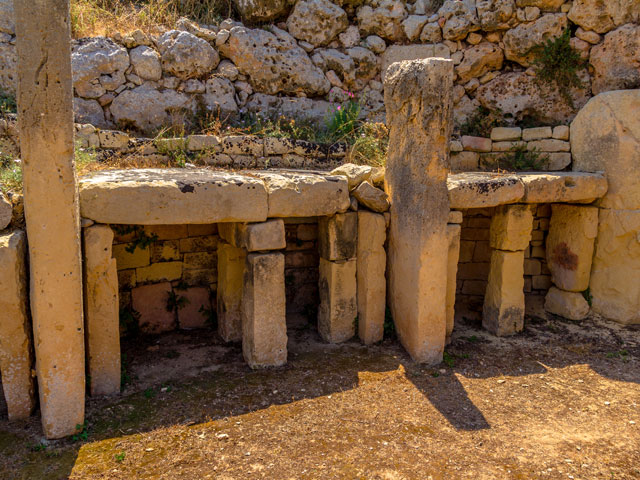 Today, we'll enjoy a full-day trip to Gozo by ferry, to visit more Goddess temples! First, we'll visit Ta Pinu Sanctuary, then the Cittadella.
Our first stop is the Ggantija (gii-gan-tii-ya) Prehistoric Temples in Xaghra (sha-ra). The Ggantija temples here are the earliest of a series of megalithic temples and hold the energy of renewal. The ancient builders erected the two Ggantija temples during the Neolithic Age (c. 3600-2500 BCE), which makes the temples more than 5,500 years old and some of the world's oldest. According to local Gozitan folklore, giants built these temples and used them as places of worship. There is a belief that there was an oracle here, just as there was at the much-later Temple of Apollo at Delphi. In ancient times, the temples dedicated to the Mother Goddess at Ggantija are said to have drawn pilgrims from across the island, and from North Africa and Sicily.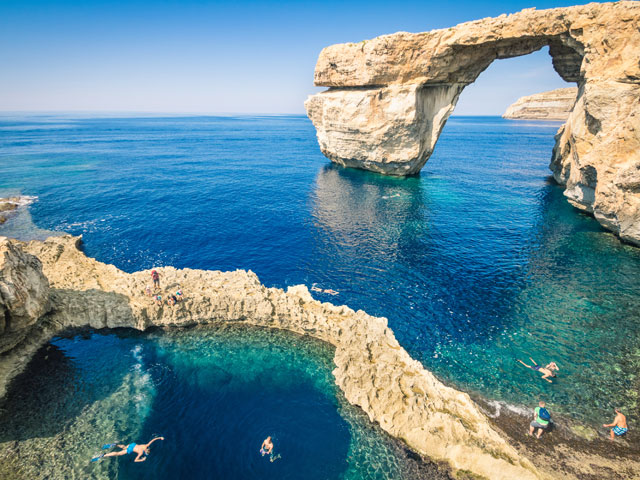 From here, we travel to Dwejra and the Inland Sea. The breathtaking scenery of Dwejra is one of the most photographed vistas of the Islands. The sea around Dwejra is very deep and of a dark blue hue. Here, we will enjoy a beautiful boat ride which starts at the Inland Sea.
Lunch in a local restaurant with soft drink or water.
Next, we'll visit the medieval part of the city of Victoria – The Citadel, a historic fortified city or castle. The area is known to have been first fortified during the Bronze Age c. 1500 BCE. Within its walls lies a fine 17th century baroque Cathedral designed by Lorenzo Gafà, the Maltese architect who also built the Cathedral of Medina.
After our visit to Victoria, we'll return to Mġarr Harbor and board the ferryboat for a return trip to Malta for dinner and overnight.
 (B, L & D with wine)
Oct 12th – Tuesday – Day 5: Blue Grotto/Ħaġar Qim/Mnajdra Temple Complex
Today we experience the temple of Ħaġar Qim (ha-jah-een), the Mother Goddess of Stone Circles – Temple of Oneness where you truly feel One with the Cosmic Energies. Located on a hilltop overlooking the stunning sea and the islet of Filfla, it is the best-preserved ancient limestone temple in Malta. Ħaġar Qim dates from the Ggantija phase, which is about 3600 to 3200 BCE. Unlike most other Maltese temples, it is a single temple, rather than a complex of two or three. Here, we find other temple ruins that stand a few feet away from the main temple.
Approximately 500 meters away from Ħaġar Qim, we will visit Mnajdra, another megalithic temple complex. Mnajdra was the first prehistoric observatory on earth. This temple complex holds the energy of the inner spirit, and the energies of feminine and masculine are balanced within.
Mnajdra is made of coralline limestone, which is much harder than the soft globigerina limestone of Ħaġar Qim. The prehistoric structure consists of three temples, conjoined, but not connected: the upper, middle, and lower. (B & D with wine)
Oct 13th – Wednesday – Day 6: Ħal Saflieni Hypogeum/Tarxien Temples/Comino
Today, on our Sacred Tour of Malta and Sicily, we will visit the world-famous and very ancient underground "dreaming" temple called the Ħal Saflieni Hypogeum. The Hypogeru (underground cavity) carved from solid rock is a unique temple, symbolizing the entrance into the womb of time.
Next, we'll visit the Tarxien (tar-she-en) Temples, which date from 3600-2500 BCE. Here, we'll experience the energy of wisdom while we are asked to connect with our own inner wisdom. The Tarxien Temples are renowned for the detail of their carvings, which include altars and screens decorated with sacred spiral designs and other organic patterns.
Finally, we'll experience the island of Comino. Formerly called Ephaestia, Comino is a small island of the Maltese archipelago between the islands of Malta and Gozo in the Mediterranean Sea. It is named for the cumin seed that once flourished in the Maltese islands.
The island of Comino is a bird sanctuary and nature reserve. Its rugged coastline and limestone cliffs are dotted with caves used as hideouts by pirates and marauders in the Middle Ages.
Today, it is known for its tranquility and isolation, and for the Blue Lagoon. After going into the "underworld" of the Hypogeum, we will bathe in the soothing, healing waters of the lagoon.
 (B, L & D with wine)
Oct 14th – Thursday – Day 7: Dingli Cliffs/Chapel of Mary Magdalene/Sicily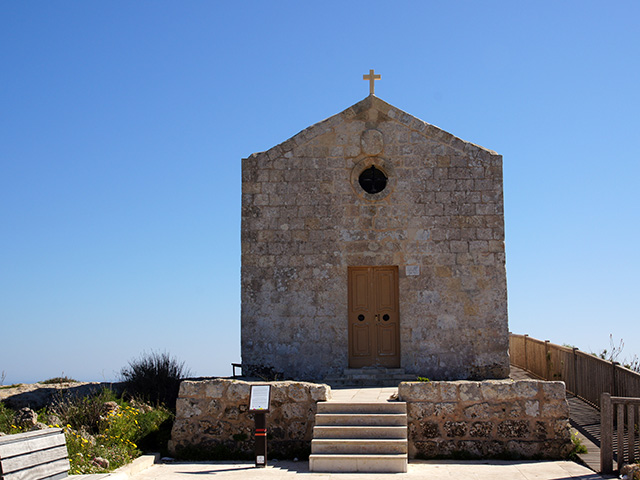 Today we'll visit the Dingli Cliffs and the Chapel of Mary Magdalene.
At the Chapel of Mary Magdalene, we will take time for meditation, and through ceremony, connect with her gracious energy.
We'll have lunch at a local restaurant with vast and sensational views.
In the afternoon, we'll begin the second half of our journey, honoring the Mother Goddess as we transfer from Malta to Sicily, crossing the Malta Straights in the Mediterranean Sea.
Sicily is the crossroads of ancient and modern civilizations, honoring the divine feminine for 3,000 years with extraordinary temples, black Madonnas and churches. Our senses will be delighted as we experience magnificent vistas atop sacred mountains, marvel at architecture with Arab, Norman and European roots, and enjoy scrumptious food with fresh ingredients reflecting the mixed cultures of Sicily.
Arriving in Sicily, we travel to Syracuse where we will have a Welcome to Sicily dinner, and then overnight. (B, L & D)
Oct 15th – Friday – Day 8: Syracuse/Church of St. Lucia
Today in Syracuse, we honor the Divine Feminine by visiting the Church of St. Lucia, also known as St. Lucy (283-304), the patron saint of Syracuse. The Church of St. Lucia is a Duomo built over the 7th century BCE Doric Tempio di Minerva on the island of Ortygia. Originally a Muslim mosque, the structure was later rebuilt with columns from the original temple, and transformed into a magnificent Sicilian Baroque Cathedral with a 13th century font and Norman mosaics.
We will also visit the early 6th century BCE temple to Apollo, with its Byzantine church built on the steps of the temple. We might even get to see the famous Weeping Madonna. A spring of water runs underneath in the crypt.
We will overnight in our hotel in Syracuse with lunch on our own.
 (B & D)
Oct 16th – Saturday – Day 9: Agrigento/Valle dei Templi
This morning, we depart Syracuse for Agrigento, where we will explore the 5th century Valle dei Templi.
We'll view another Virgin Mary and Child in the 16th century Church of Santa Maria dei Greci built over a 5th century temple dedicated to Athena – the Temple of Concord – the best-preserved Doric Greek temple outside of Athens.
As part of the 7-temple complex in Agrigento, we'll also see the temple dedicated to Hera (Juno) or Demeter; the other temples are dedicated to Heracles, Caster and Pollux and Zeus.
Lunch on our own.
Finally, we'll check in at our hotel in Agrigento for overnight.  (B & D)
Oct 17th – Sunday – Day 10: Trapani/Palermo
Today, our Sacred Tour of Malta and Sicily continues with a morning drive to Palermo via Trapani, which was a Carthaginian town always linked to the sea. On the way, we'll stop at Segesta to experience Temple Dorico.
In Trapani, we will view the Madonna di Trapani in the Santuario di Maria Santissima Annunziata, which is a 13th-century Carmelite church with its original portal and Rose window.
Nearby, The Chiesa del Purgatorio has 18th century wooden statues which are venerated on Good Friday.
Check in at our hotel in Palermo, where we will stay for 3 nights.
 (B & D)
Oct 18th – Monday – Day 11: Cathedral of Monreale/Mount Pellegrino/Palermo
After breakfast and breathtaking views in Palermo, we'll drive to the Cathedral of Monreale, a 12th-century architectural gem. The cathedral mesmerizes its visitors with its magnificent gold mosaics, royal tombs, gilded wooden ceilings, and an 18th century portico. A rare highlight is the stunning Christ Pantocrator, an exquisite icon of Christ, one of 5 in the world.
We then travel back to Palermo, where en route we will visit Mount Pellegrino – or Pilgrims' Mountain – and the shrine of the hermit Saint Rosalie, where many miracles were attributed to her.
Tonight, we overnight in Palermo.
 (B & D)
Oct 19th – Tuesday – Day 12: Palazzo Abatellis/Cathedral of St. Mary of the Admiral/Teatro Massimo
Today we will continue to explore Palermo with a visit to the Palazzo Abatellis with its famous The Triumph of Death and The Annunciation, the Plazza Marina, and the infamous Plazza Pretoria on the Palermo's eastern side.
On the western side of the capital, we'll visit the Arab-Norman basilica, the Cathedral of Saint Mary of the Admiral, experiencing another Christ Pantocrator which depicts Christ surrounded by angels. The cathedral also boasts a magnificent carved wooden ceiling, a crypt, and masterpieces of Muslim art.
Next, we'll visit the Teatro Massimo, the opera house made famous by the Godfather movie.
Overnight in Palermo.
 (B & D)
Oct 20th – Wednesday – Day 13: Tindari/Taormina/Cathedral of San Nicola
This morning, we will depart for Taormina, continuing our Sacred Tour of Malta and Sicily along the northwestern coast of the island.
In nearby Tindari, we shall see two Black Madonnas, one situated in a breathtaking sanctuary on a high bluff overlooking the Tyrrhenian Sea and The Aeolian Islands. The sanctuary was built on the site of a former temple to Cybele, a goddess who was worshiped in the area as far back as prehistoric times. This Madonna is striking with her (most probably) Indian face, and according to some authorities, represents The Great Mother archetype.
In the afternoon, we'll check in at our hotel in Taormina where we will overnight.
Later, we shall saunter the pedestrian streets and explore the Cathedral of San Nicola, a fortress cathedral built in 1400 AD on the site of an even older church.
Tonight, we will enjoy dinner with wine at local restaurant. 
(B & D)
Oct 21st – Thursday – Day 14: Taormina Shopping, Beaches, & Spas
Today we will relax and enjoy a free day to explore the amazing town of Taormina, with its wonderful village-style shopping and delightful beaches. Feel free to spoil yourself in one of Taormina's fabulous spas as you prepare yourself to venture back into the world as our sacred tour nears its end.
Overnight in our hotel with lunch on our own.
(B & D with wine)
Oct 22nd – Friday – Day 15: Depart From Sicily/End of Tour
Full of bliss and blessings, it is time to depart from our new friends and the beauty that is Sicily for the flight back home from Catania airport. Grazie!
Remember, you are flying into Malta International Airport (MLA) and flying out from Catania Airport in Sicily (CTA).
Our Hotel List – Beautiful 4-Star Hotels:
Valletta 6 nights – Victoria Hotel
Syracuse 2 nights – Hotel Mercure or similar
Agrigento 1 night – Hotel della Valle or similar
Palermo 3 nights – Hotel Garibaldi or similar
Taormina 2 nights – Giardini Naxos Hotel Ceasar Palace or similar
Sacred Tour of Malta and Sicily Price:
SACRED TOUR OF MALTA AND SICILY PRICE DOES *NOT* INCLUDE:
Airfare

Meals not mentioned above

Extras at hotels

Mineral water, tea, coffee, after meal beverages, personal expenses (i.e. laundry, valet service, telephone calls, postage, etc.)
$500 deposit secures your place on the journey with the balance due 60 days prior to departure.
For reservations call 1 833 970 6217 or book online on this page.
UK booking: Roma Telephone 01305 816644
For Price in Euros or Pounds Sterling, please contact customer service.
We offer travel insurance through Travel Insurance Center.
If you would like to make a payment towards your tour, call us at +1 (833) 970-6217 or select "Pay Balance" in payment options below.
Please make sure you select the appropriate room accommodations.
If you have already registered for our Sacred Tour of Malta and Sicily, you may also:
or