Travel Sacred Ireland: Experience Autumn Equinox at Tara and explore the sacred sites of the Emerald Isle on a Sacred Tour of Celtic Ireland!
As we absorb these sacred energies, we open ourselves up to the ancient wisdom held in the sacred power sites of this mystical land.
Experience the incredible goddess energy and beauty of Ireland on Autumn Equinox and experience another shift in Self Realization/Ascension as we enter the 6th inter dimensional doorway in this sacred place. This unique land inspires the imagination. Travel by coach as we experience the Book of Kells, Newgrange, Knowth, Loughcrew, Tara, Killarney, Holy Wells, Stone circles in Kenmare, Blarney and Drombeg, Skellig Michael, Glendalough, Dingle Peninsula and much much more.
Special message Finbarr received at Iona in 2011:
At Winter Solstice 2012 we are entering a time of shift in the Ascension process and its energy will spark phase two of the process at Spring Equinox 2013 taking us through the first doorway and step one of 13 steps that will culminate with Winter Solstice 2023.
Quest and experience the vibrations of self-realization/ascension experience of a lifetime as together we explore the energy of Awakened Consciousness. Allow the ancient wisdom of this sacred land of the ancients and of the Druids to penetrate your life as our world shifts in this magical land a place of ancient beauty, stone circles, castles, chapels and Celtic spirituality. On this sacred tour of Celtic Ireland we will meet some local people with great stories/wisdom to share and delight in the mix of stunning landscapes and mountains, as we quest this sacred land.
Sacred Tour of Celtic Ireland Itinerary:
Day 1: Arrival in Dublin
September 20th – Wednesday – Day 1
After passing through immigration in Dublin at 9:00 AM, we begin our Sacred Tour of Celtic Ireland.
First, we'll travel a short distance to the center of Dublin, where we discover the charm of the city as we embark on a brief walking tour of Dublin. We will visit the many historical sites in Dublin, including Christ Church Cathedral, National Museum of Ireland, and Trinity College, home of the "Book of Kells."
Next, enjoy country hospitality when we arrive at our hotel. There we are served a delightful meal in a quiet, peaceful atmosphere, retiring early to relax and refresh ourselves after our long journey.
Overnight in our hotel in Navan. (B, D)
Day2: The Boyne Valley – Newgrange/Knowth/Hill of Slane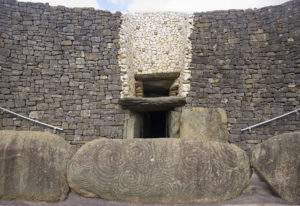 Today on our Sacred Tour of Celtic Ireland we'll experience The Boyne Valley. We will visit three ancient temples. These sacred sites of Ireland are older than the pyramids of Egypt, and their uniqueness will astound you. Each temple was carefully built to be aligned to the sun. Some believe these are remnants of the Atlantian civilization.
At Newgrange we'll view the enormous stones etched with ancient art that surround the temple. As we enter the temple, we'll experience its energy as the ancients did before us. On winter solstice, the sun rises in perfect alignment, casting a beam of light down the center of the temple.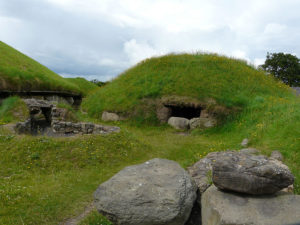 Next, we travel on to Knowth, which consists of one large temple surrounded by more than eighteen satellite structures believed to be tombs. Ancient kings once ruled from this site.
Hill of Slane and more.
Overnight in our hotel in Navan. (B, D)
Day 3: The Magnificent Loughcrew Cairns
This morning on our Sacred Tour of Celtic Ireland we will visit and experience the magnificent Loughcrew Cairns, also known as Slive Na Callaigh, or the Hill of the Witch. The central and biggest Cairn is known as Cairn T. The largest kerbstones are near the entrance to the tomb. A large stone in the northern part of the kerb is known by three names, 'Chair of the Witch', 'the Chair of Queen Tailtiu' and 'Queen Maeve'. Here you will sit on the chair to receive your personal message from Queen Maeve. This sacred site is aligned to the spring and autumn equinoxes.
In the afternoon, we'll visit Tara, one of the most venerated places in early Ireland. Tara is one of the largest Celtic monuments in Europe. In ancient Celtic spirituality and mythology, Tara was revered as a dwelling place of the gods. Here we will have a special ceremony opening wider the inter dimensional doorway taking us to a greater place of conscious awareness as we climb Jacobs Ladder on our journey of ascension.
Special message Finbarr received at Iona in 2011:
At Winter Solstice 2012 we are entering a time of shift in the Ascension process and its energy will spark phase two of the process at Spring Equinox 2013 taking us through the first doorway and step one of 13 steps that will culminate with Winter Solstice 2023.
Five doorways have now been opened. 1st Spring Equinox 2013 on Iona, 2nd Chartres Cathedral Autumn Equinox 2013, 3rd Iona Autumn Equinox 2014, 4th Tara Summer Equinox 2015, 5th Iona Autumn Equinox 2016, and now the 6th doorway today at Tara on Autumn Equinox.
We are all now feeling the impulse of the Second Coming within, the energy of the Universal Christ Consciousness/Universal Consciousness, Oneness opening the pathway of the heart.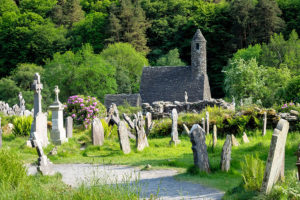 We will have time to visit a Tara gift shop, featuring all things Celtic. There, you can partake in afternoon tea. In the evening, we'll travel to Glendalough where we enjoy a beautiful dinner. Overnight near Glendalough for 3 nights. (B, D)
Day 4/5: Enchanting Glendalough, Glen of the Two Lakes
The little people are sure to touch our hearts in Glendalough. Here, we will be enchanted by feelings of joy, love, and peace as we walk the well-traveled and the less traveled paths through this ancient monastery. This exceptional place, Glen of the Two Lakes, is the only surviving example of an entrance to an early Irish monastery and university. As we stroll through this ancient Celtic spiritual power site, we will be encouraged to take in the calmness and natural beauty. Here, one will connect with the beauty of the heart and the perfect balance of the masculine and feminine within each of us. This is a place of sacred balance and awareness.
During our stay in Glendalough we will have some time for a group ceremony and individual and group meditations, reflections, integration as well as talks and discussions about the energies of Awakened Consciousness in 2017.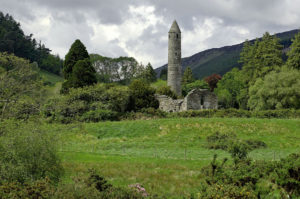 As we walk through this picturesque valley we will encounter Trinity Church, Saint Mary's Church, Reffert Church, the main complex, the Green Road, lakes, streams and Saint Kevin's Cell, St. Kevins Well and much, much more.
We will also experience a Celtic night of traditional song and dance.
Overnight in our hotel in Glendalough. (B, D)
Day 6: Killarney National Park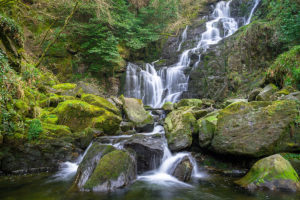 Today our Sacred Tour of Celtic Ireland begins with an early morning departure for Killarney National Park where we will visit the beautiful Torc Waterfall. We will also stop at Muckross House to view the house and the gardens. You may choose to rent a jaunting car and journey back in time as you explore the mystical grounds, waterfall, and magical forest. Some have reported seeing a leprechaun or two.
Later, we will wander through an ancient abbey and experience the mystically powerful energies of the Yew tree.
Overnight in our hotel in Killarney. (B, D)
Day 7: Dingle Peninsula/The Gallarus Oratory
Our Sacred Tour of Celtic Ireland continues as we visit the Dingle Peninsula and the mystical Gallarus Oratory with its inscribed stone. The Gallarus Oratory is one of the finest examples of an early Celtic Christian church. The small oratory was built of large cut stones neatly fitted together to resemble an upturned boat.
Later in the day, we'll experience Kilmalkedar Church and Cross, Ogham Stone, Alphabet Stone, Sundial and Saint Brendan's House. The early history of the sacred site is associated with Saint Maolcethair who died in 636 AD. It is also the starting point of 'the Way of the Saints', which takes you to the top of Mount Brandon along the old pilgrims' path. We visit ancient Beehive Huts and experience how ancient communities lived.
We overnight in Portmagee where we enjoy a fun-filled evening with a wonderful dinner and maybe Celtic music and dance to wrap up your day. (B, D)
Day 8: Skellig Michael/Glengarriff
Today is not for the faint of heart! We will travel by boat to the breathtaking sanctuary of Skellig Michael (weather permitting) located 8 miles off the southwest coast of Ireland. You may choose to climb the 620 steps to the top to view the monastic remains and beehive huts used as living quarters and community buildings. Saint Michael's Church and a small area known as The Monk's Garden are situated on a series of panoramic terraces. If you choose to make the trek you are rewarded with breathtaking views. In the afternoon, we'll return to Portmagee for an Irish lunch at the Moorings.
We'll continue our Sacred Tour of Celtic Ireland as travel to our hotel in the exquisite seaside town of Glengarriff where we'll take in the local color, spend two nights, do some fine dining and listen to traditional Irish music.
Overnight in Glengarriff for 3 nights. (B, D)
Day 9/10: Glengarriff/Garnish Island/Kenmare Stone Circle
Experience the exquisite seaside town of Glengarriff where we take in the local color, we visit Garnish Island, a subtropical paradise, a remarkable place on a 37 acre island reachable only by boat from the village of Glengarriff. The gardens were created in 1911 and are the joint work of John Bryce, then owner of the island and Harold Peto, architect and garden designer. The signature area of the garden is undoubtedly the Italian Casita, overlooking a formal pool in an area lushly planted with fuchsias, camellias, myrtles and scented rhododendrons. It also has am amazing temple where we will do a ceremony.
In the afternoon we travel to Kenmare to explore its sacred stone circle associated with the goddess and sacred dance. Here, you can take part in a ritual, getting in touch with the past. Experience these stones as our ancestors may have done thousands of years before us.
We then journey to the enchanting valley of Gougane Barra, Saint Finbarr's first settlement on the shores of a beautiful lake. We visit the oratory and walk the grounds of the old monastery, feeling its energies and sacredness. Our stay in Glengarriff will be a time of weaving the energies of sacred sites with our group and personal energetic work.
Free time to explore and shop. Overnight in our hotel in Glengarriff. (B, D)
Day 11: Drombeg Stone Circle/Blarney Castle
Today, our Sacred Tour of Celtic Ireland begins with an early departure as we travel to the Drombeg stone circle known as the 'Druid's Altar.' This special site is aligned with the Winter Solstice. Starting at Winter Solstice (for 3 days), the sun disappears behind the hill on the horizon and then reappears in the lower valley. At the point of reappearance, the stone circle is dramatically illuminated. Remember; don't sit on a Druid altar unless you can handle the vibrations!
In the afternoon, we'll travel to Blarney where you settle into your hotel or shop at the Blarney Woollen Mills. You may visit Blarney Castle and optionally kiss the Blarney Stone. Here we experience the beauty of Blarney and its ancient Druid heritage. In Rock Close ask the giant Dolmen if it still rocks. Maneuver the Wishing Steps and have your dream come true. Experience the sacredness at the altar of the Druids or stand in their ancient circle. Will we see the Witch as she pokes the ashes of her kitchen fire? Are there fairies at the bottom of the garden? We can of course just simply marvel at the unrivaled beauty that Mother Nature so generously sets before us.
Overnight in our hotel at Blarney. (B, D)Drombeg Stone Circle/Blarney Castle
Day 12: Kildare/Farewell Dinner in Dublin
This morning we say goodbye to Blarney and travel to Kildare. There, we visit the Flame of Saint Brigid. Her flame burned for over a thousand years prior to the English reformation. The flame was rekindled in 1993 by the Brigidine sisters. Saint Brigid is believed to have been a Druidic priestess who converted to Christianity.
People who visit the holy well often tell stories of miraculous healings and divine inspiration.
As our journey comes to a close, we travel to our hotel at Dublin Airport for an Irish farewell dinner and overnight at the hotel in Dublin Airport. (B, D)
Request This Tour