Experience Chartres, Mont Saint-Michel, Paris, Black Madonnas and more on this guided tour of the sacred sites of France!
Travel Sacred France on a spiritual journey with Finbarr Ross to experience Spring Equinox at Chartres Cathedral as we open the 7th Inter Dimensional Gateway of Ascension on our 13-step journey of Awakened Consciousness.
Sacred Mystical Tour of France Introduction:
On this sacred journey you are being asked to feed your soul as it awakens to the many wonders of the miraculous and the mystical. Join me on this spiritual adventure, and as we journey we will experience the timeless wonder of being a pilgrim, one more unique than the ordinary traveler.
As we journey, we will absorb the sacred mystical energies and open ourselves up to the ancient Druid wisdom held in this sacred power site, its underground streams, and much more, as we quest this mystical land.
Experience the incredible goddess energy and beauty of Chartres on Spring Equinox and experience another shift as we progress along the journey of Self Realization/Ascension and we enter the 7th inter dimensional doorway in this sacred place as humanity takes its 7th step of the 13 steps on the journey of ascension. On this Sacred Tour of France, we will experience the connection between the Kabbalah Code in France and the path of ascension.
This unique land and area inspires the imagination. Travel by coach as we experience Chartres Cathedral and its labyrinth, Orleans, Versailles, Mont Saint-Michel, the Paris Mosque, Saint-Sulpice, Notre Dame, Saint-Pierre De Montmartre, La Madeleine, the Pantheon, Black Madonna of Deliverance and much much more.
Special message Finbarr received at Iona in 2011:
At Winter Solstice 2012 we are entering a time of shift in the Ascension process and its energy will spark phase two of the process at Spring Equinox 2013 taking us through the first doorway and step one of 13 steps for humanity and 13 planetary inter dimensional steps that will culminate with Winter Solstice 2023.
Sacred Mystical Tour of France Itinerary:
March 19th – Monday – Day 1: Chartres
We begin our Sacred Mystical Tour of France as we depart from Hotel Louvre Sainte-Anne at 11:30 a.m. From here we will travel to Chartres, check into our hotel and acquaint ourselves with all aspects of the special sacred Spring Equinox journey, including a very special 4-Day Kabbalah Code Experience associated with the ascension process. In the afternoon, we will explore Chartres and have a group meeting to introduce ourselves and share our reasons for being on this sacred journey. We will be in the Chartres hotel for 5 nights as we explore the region. Tonight, we will have a group dinner in a local restaurant. (D)
March 20th – Tuesday – Day 2: Spring Equinox/Chartres Cathedral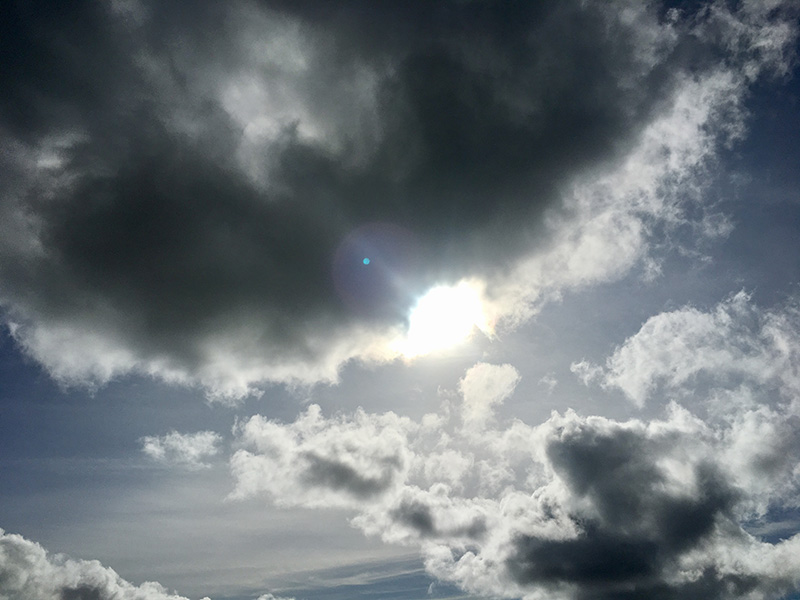 The sky over Tara during the meditation opening the 6th Gateway in 2017

This is our special day of celebration. The Spring Equinox exact time is 5:15 p.m. on this day of perfect balance with equal day and night, the third spoke in the wheel of the year. It is a special time when the new energies for 2018 are generating a new impulse with greater understanding and comprehension of what is taking place within each one of us. We will have a special ceremony and meditation at the Chartres Cathedral to welcome the new energies which will take us on a journey within on the path of Awakening to Beauty. Dinner at a local restaurant. (B, D)
March 21st – Wednesday – Day 3: Orleans/Notre Dame/Chartres
Today on our Sacred Tour of France, we depart for Orleans to honor its heroine Joan of Arc in the church of Notre Dame des Miracles. This is the historic site where Joan of Arc received her orders from God to save France and where there is an actively venerated and powerful Black Madonna, St. Mary the Egyptian carved from black stone. We will also visit the Orleans Cathedral of Sainte-Croix and experience its many beautiful features. We return to Chartres where we will overnight and have dinner at a local restaurant. (B, D)
March 22nd – Thursday – Day 4: Versailles
Today, on our Sacred Tour of France, we tour The Palace of Versailles. The Palace of Versailles is a place of beauty, simply known as Versailles, dating back to the 17th century. Here we will discover magical gardens, fountains and statues with basins, the groves and their waters gushing to the rhythm of music in the gardens of Versailles. As we walk its path we will be taken back in time to remind us of the beauty that is within asking us to remember to remember who we are!
March 23rd – Friday – Day 5: Chartres joined by Phil Gruber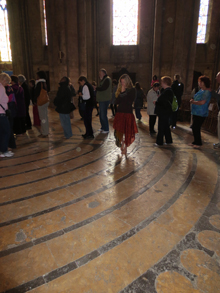 Today we experience Chartres Cathedral, and walk the labyrinth with a history dating back to the 4th century. The Chartres Cathedral was erected during a time of religious peace brought about by the Emperor Constantine. Chartres is rich with mysterious sacred imagery and sacred geometry and is said to be encoded with the secrets of the universe. It was established on a hilltop, where a sacred forest once stood. Chartres was a Druid sacred site. A well beneath the cathedral was sacred to the Druids and is said to be a miraculous source of healing water with its seven streams. It houses the tunic of the Blessed Mother - the Sancta Camisia - since the year 876 when it was given to the church by Charlemagne, after he received the silk relic as a gift from Jerusalem.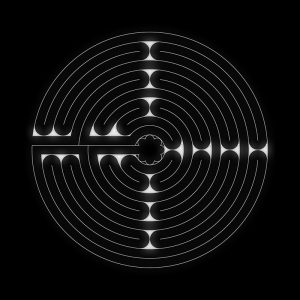 The Cathedral today is one of mystery and majesty. It is a holy place of rare architectural beauty, with its 160 stained glass windows, a crypt, a labyrinth, and its unique silhouette above the landscape. The standout feature at Chartres is the labyrinth, installed into the Cathedral floor in the year 1200. Spiritual Guide Finbarr Ross will explain the history of the Chartres labyrinth and address the path of enlightenment that is opened to us via the 11-circuit and the Chartres labyrinth, plus much more about doors and windows. Free time to explore and ponder on your own.
In the spring of 2008, Phillip Gruber led author James Tywman on a spiritual tour of 10 sacred destinations in/around Paris and the Chartres Cathedral that became the inspiration for the best-selling book "The Kabbalah Code".  Their journey to experience the mystery of the Sacred Names of God found its conclusion at Chartres. As part of our Sacred Spiritual Journey of Ascension, we will begin at Chartres. On the tenth anniversary of that journey, we will relive the wonder and mystery that transpired during those 3 magical days back in 2008. Phil Gruber will be joining us on this mystical journey to share his insights into this amazing journey. Overnight in Chartres at our hotel. (B, D)
March 24th – Saturday – Day 6: Mont Saint-Michel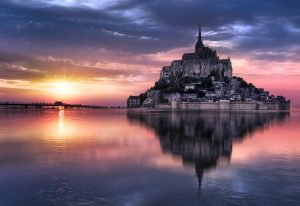 Today we depart Chartres and travel to Mont Saint-Michel for our spiritual experience of the day. Mont St Michel is one of the most unforgettable sights in all of Europe. Found in the bay where Normandy and Brittany merge, the mesmerizing island captivates onlookers from great distances. The staggering and awe-inspiring setting has long inspired the imagination.
Mont Saint-Michael, now widely regarded as an important place of pilgrimage, has a colorful background with a rich history. Rising out of white sand beaches, the abbey rests on top of a small island surrounded by battlements and ramparts, connected by an old causeway to the mainland. It is a tidal island, reachable by car only at low tide! Legends tell of the abbey's birth in the 8th century, after a local bishop named Aubert was visited by the Archangel Michael who appeared to him in a dream. Today, the abbey is crowned by a gilded statue of Michael slaying a dragon. This symbolizes the triumph of good over evil. We will explore Mont-Saint-Michel village – including entrance to the abbey, which once held two black Madonnas. We will explore the abbey, its gardens, its beauty and mystical past as a place of learning and spiritual significance. Here we will experience a deep connection to the Divine Mother.
Overnight at our hotel in the nearby town of Avranches. (B, D)
March 25th – Sunday – Day 7: Paris
Free morning to explore on your own with an afternoon departure from Mont St Michel to our hotel in Paris to begin the next phase of our adventure: touring the sacred sites of Paris. Overnight in Paris for 5 nights. (B, D)
March 26th – Monday – Day 8: Paris – 10 Sacred Destinations
With the wonderful memories of our visit to Mont St Michel still fresh in our minds, our Sacred Tour of France continues as we begin the Kabbalah Code quest to experience the magic and mystery of the Sacred Names on this journey to 10 sacred destinations in Paris, a city originally built to worship and honor the Goddess Isis.
We begin our journey within a journey at L'église de la Madeleine (the Church of Mary Magdalene). Mary Magdalene, next to Eve, is quite possibly the most misunderstood and maligned figure in all of human history. Was she Yeshua's Divine Counterpart? Wife?
After our tour of Église de la Madeleine, we continue on to tour the Church of Our Lady of the Assumption, which honors the literal taking up of the Blessed Virgin Mary at the end of her earthly life; in other words, 'assumed' body and soul into heavenly glory.
We will also visit The Pantheon, which looks out over all of Paris. Originally built in honor of St Genevieve, the Pantheon is the site of the original Foucalt's Pendulum, which Léon Foucault used to demonstrate the earth's rotation.
Overnight in our hotel in Paris. (B, D)
March 27th – Tuesday – Day 9: The Louvre/Saint-Germain l'Auxerrois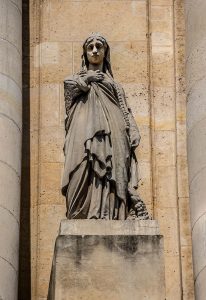 We continue our Kabbalah Code quest at The Church of Saint-Roch, dedicated to the 13th Century saint.  To say that Saint Roch was an interesting character is an understatement, to say the least!  Inside the Main Lady Chapel of the Church of Saint-Roch there is a collection of fine religious art that is virtually unparalleled in Paris.
Next, we move on to The Louvre, with special attention given to Leonardo Da Vinci's John the Baptist, the Mona Lisa, The Virgin of the Rocks, and Poissant's Shepherds of Arcadia. From the Louvre, we move to Saint-Germain l'Auxerrois. Among its treasures is a 15th Century statue of St. Germain, and beautiful rose windows from the Renaissance period. When the Louvre was still the Royal Palace, this was its church.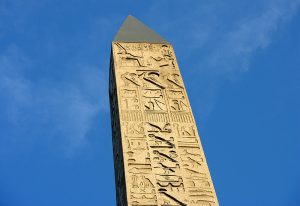 Next, we tour the Place de la Concorde, where the majestic Obelisk of Luxor sits. The Obelisk of Luxor is one of the very few remaining obelisks outside of Egypt, and the location in The Kabbalah Code where James and Phil had one of their most enigmatic and puzzling encounters on their Kabbalah Code experience.
Overnight at our hotel in Paris. (B, D)
March 28th – Wednesday – Day 10: Saint-Sulpice/Notre Dame/Ile de la Cité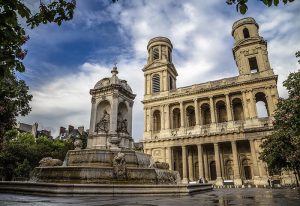 We begin our day at Saint-Sulpice, the second largest church in Paris after Notre Dame. Although Saint-Sulpice wasn't visited on the Kabbalah Code journey, it played a major role in Dan Brown's The Da Vinci Code. We will go in search of "The Magdalene Line" and much more, including revealing clues to her children. This is a magical church with many hidden mysteries including the magnificent relic of Saint Faustina of Divine Mercy. We'll see what Langdon got right, and what he got wrong!
Then on to Notre Dame, after a short visit to Shakespeare and Co., one of the last remaining independent bookstores, located on Paris' Left Bank in the Shadow of Notre Dame. Notre Dame defies conventional descriptions as well as the Laws of Gravity, with its flying buttresses and Templar design; truly a text in stone, next to Chartres - a shining example of Art Gòtic.
Next, on to the Ile de la Cité which is located at the very center on the city on the Seine. The Ile de la Cité was the site of the roasting of the last of the Templar Grand Masters, Jacques de Molay. Overnight at our hotel in Paris. (B, D)
March 29th – Thursday – Day 11: Neuilly-sur-Seine/Montmartre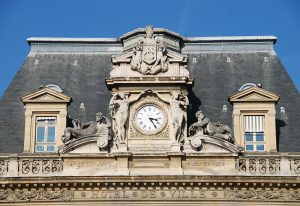 The last day of our Sacred France Tour takes us to The Chapel of the Miraculous Medal, rarely visited on spiritual journeys. In this chapel resides an 'incorruptible' - St. Catherine Labouré - a saint whose body shows no evidence of decay over the course of time.
Next, we travel to Neuilly-sur-Seine to tour a convent in the suburb of Paris which houses the Black Madonna known as Our Lady of Good Deliverance. Here we will have a magical and powerful experience.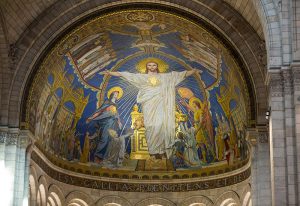 After lunch, we travel on to historic Montmartre and the Church of St. Pierre de Montmartre, one of the oldest surviving churches in Paris. With a virtually unparalleled view of Paris, and after a tasting of perhaps the best crepes in Paris, we'll take the 'funicular' up to Sacred Heart Basilica.
As the 7th Inter Dimensional Gateway of Ascension opens, we end our Kabbalah Code and Ascension journey, where James and Phil began theirs. All leads back to the heart as we close our Sacred Mystical Tour of France and end this leg of our ongoing Journeys of Ascension. Overnight at our hotel in Paris. (B, D)
March 30th – Friday – Day 12: Depart for home
Today we depart for home grateful for all that we experienced.
Request This Tour
Upcoming Spiritual Tours to France