Nova Scotia Retreat: Mary Magdalene and the Golden Flame of Illumination Gathering with Joan Clark and Finbarr Ross
It is our pleasure to invite you to join Joan Clark and Finbarr Ross for a mystical experience on the south shore of Nova Scotia, Canada, for a 7-day retreat as we explore the Goddess Mystery School Teachings of Mary Magdalene and the Golden Flame of Illumination Ascension Process.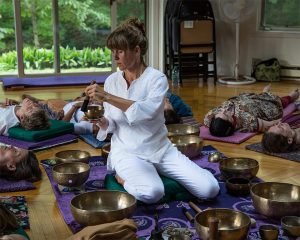 We have designed this retreat to include not only three days of working with spiritual principles, but to also include the magic, alchemy and beauty of Nova Scotia. Our dear friend and colleague, Stephanie Larouche, will host this retreat for us at her lovely property in the area, as co-host, sound healer Denise Mihalik will offer a group Himalayan singing bowl meditation, a mystical tradition from Nepal.

Along with other like-minded and heart-centered people, you will experience the joy of walking in the forest, picking seasonal berries, taking a dip in the lake, a canoe ride, picnicking on the lawn, star gazing, and fire ceremonies, as well as visiting special sites in and around the area. There will be meditations and a variety of different ceremonies that will be incorporated throughout the week as we immerse ourselves in the Goddess Mystery Teachings of Mary Magdalene and the Golden Flame of Illumination – Ascension process.
Joan Clark will introduce The Goddess Mystery School Teachings of Mary Magdalene™: an intimate experience with these 7 spiritual teachings which are pathways to awaken and remember the path of love and loving.
You will be also be introduced to the Seven sacred Magdalene fragrances that align one-for-one with these teachings. Each fragrance is created to open up the Akashic wisdom of each of the teachings for a more intimate and personal experience, culminating in a deeper union with Mary Magdalene.
Finbarr Ross will introduce you to The Shift/Ascension and The Golden Flame of Illumination: an in-depth exploration that will take you on a journey from Harmonic Convergence in 1987 through the shifts in consciousness that have taken place. The Shift brought us the 13 steps of initiation which humanity is currently going through with the final step at Winter Solstice 2023 and the Golden Flame of Illumination; the spark of unified consciousness (the second coming) that resides within each one of us, awakening us to the new dawn of 2025.
Nova Scotia Retreat Itinerary
Nova Scotia Retreat Price:
SACRED TOUR OF NOVA SCOTIA PRICE DOES *NOT* INCLUDE:
Airfare

Meals not mentioned above

Extras at hotels

Mineral water, tea, coffee, after meal beverages, personal expenses (i.e. laundry, valet service, telephone calls, postage, etc.)
$500 deposit secures your place on the journey with the balance due 60 days prior to departure.
For reservations call 1 833 970 6217 or book online on this page.
UK booking: Roma Telephone 01305 816644
For Price in Euros or Pounds Sterling, please contact customer service.
We offer travel insurance through Travel Insurance Center.
If you would like to make a payment towards your tour, call us at +1 (833) 970-6217 or select "Pay Balance" in payment options below.
Please make sure you select the appropriate room accommodations.
If you have already registered, you may also:
or