Travel Sacred Ireland: A Pilgrimage to the Emerald Isle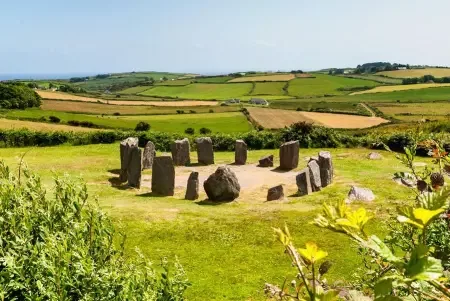 We are excited to invite you to travel with us to Ireland—the land of poets, mystics, wandering hills, deep forests, and some of the most beautiful emerald landscapes in the world; a place of alchemy, wisdom, ancient lore and prophecy.
Ireland is a land of exquisite beauty and holy sites where rituals and ceremonies for the sacred have been honored throughout time. Here one connects more deeply to the land, one's roots, one's self. And from here one prepares to draw in their Anam Cara—literally, "soul friend"—sacred intimate, whether in the form of one's highest Self, a teacher, spiritual guide, companion. An inner and/or outer manifestation of a sacred friend who frees the wildest possibilities within us.
Thus we journey together in search of a homecoming—a tilling and making ready of the soil of our essence—such that we prepare to receive and have received, at more profound levels, authentic essence—the next level of being. Where we fall headlong in love with our own oneness and divinity.
"In this love, you are understood as you are without mask or pretension. The superficial and functional lies and half-truths of social acquaintance fall away, you can be as you really are. Love allows understanding to dawn, and understanding is precious. Where you are understood, you are at home. Understanding nourishes belonging. When you really feel understood, you feel free to release yourself into the trust and shelter of the other person's soul… This art of love discloses the special and sacred identity of the other person. Love is the only light that can truly read the secret signature of the other person's individuality and soul…
"Being an anam cara requires a purposeful presence—it asks that we show up with absolute integrity of intention. That interior intentionality… is what sets the true anam cara apart from the acquaintance or the casual friend—a distinction all the more important today, in a culture where we throw the word 'friend' around all too hastily."
(John O'Donahue, author—Anam Cara: A Book of Celtic Wisdom)
As we traverse the beautiful countryside listening to the ancient lore, presenting ourselves at sacred sites, our mission will be to unite with the inner soulmate/soul-friend/muse who has brought us to this mystical homeland. Each place we visit shall open us up to the power and presence of our own inner soulmate—which is our true divine partner throughout all eternity, the essence within us that never ends but moves with us lifetime after lifetime. Over hill and dale—from Dublin, the Book of Kells, Newgrange, the Boyne Valley, Glendalough, Kildare, the Ring of Kerry, Kenmare, and beyond—we squeeze in as much of the sacred, ancient, magical and delightfully joyful as any band of pilgrims possibly could!
Come Home
I am here within.
I am your soul, your friend speaking to you.
I am the soulmate you yearn for.
S/he whom you have been seeking outside of yourself… Is actually deep within.
I am here within you. Not separate from you, but one with you.
Come Home, Move inward.
For this is where you will meet me.
And all the longings of yesterday will cease to be.
For what you have been seeking has been within you all along.
Slainte'!
(To your health!)