On Joan Clark's Mystical Pilgrimage to Ireland we'll experience three ancient temples in The Boyne Valley. These sacred sites of Ireland are older than the pyramids of Egypt, and their uniqueness will astound you. Each temple was carefully built to be aligned to the sun. Some believe these are remnants of the Atlantian civilization.
Newgrange
At Newgrange we'll view the enormous stones etched with ancient art that surround the temple. Newgrange was built in approx. 3200 BCE, making it older than Stonehenge and the pyramids of Giza. The huge mound covers over an acre of area, and it is surrounded by nearly 100 kerbstones, some of which are decorated with rich megalithic art. On winter solstice, the sun rises in perfect alignment, casting a beam of light down the center of the temple. It was formerly considered a passage tomb by archaeologists, but it is now known to be much more than that. Many researchers now believe that it is an ancient temple and place of spiritual, astrological, ceremonial and religious importance. As we enter the temple, we'll experience its energy just as the ancients did before us.
Knowth
Another significant but lesser-known temple of the Boyne Valley is Knowth. Knowth consists of one large temple surrounded by more than eighteen satellite structures believed to be tombs. It is similar in size to Newgrange, and almost as old. Ancient kings once ruled from this site. The Great Mound has two passages with entrances on opposite sides. Knowth also features some amazing kerbstones with drawings that depict significant astrological events and more. The eastern passage of the Great Mound at Knowth is 40 meters long, leading to a 7 meter high cruciform chamber, making it the longest megalithic passage known to Western Europe. Excavations of the great mound at Knowth began in 1962, and it was five years before the passages were discovered. Artifacts such as a giant basin, a beautifully carved flint macehead, and a stone phallus were found inside.
Hill of Slane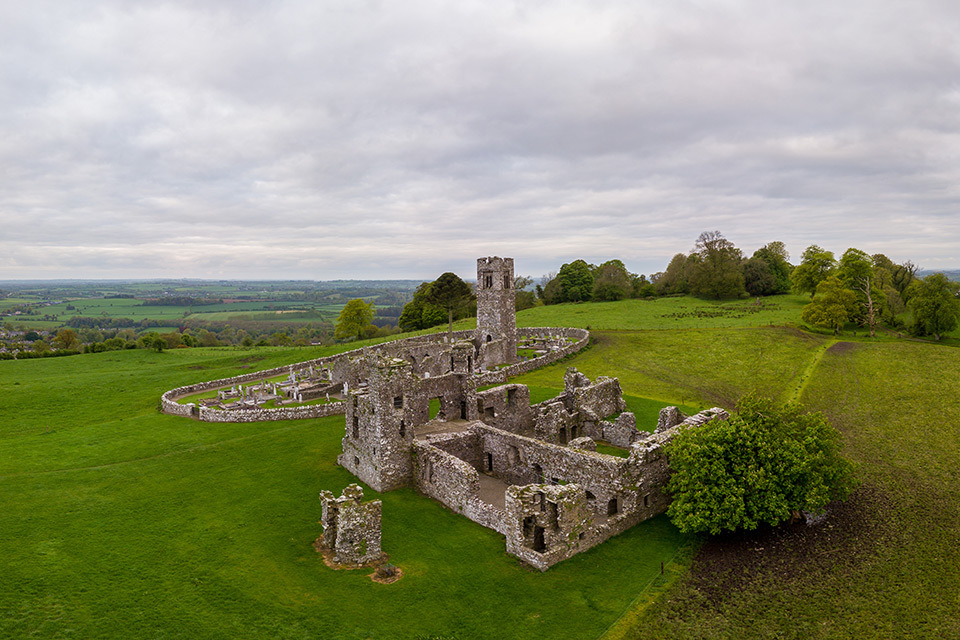 The Hill of Slane stands 518 feet above the surrounding village of Slane, which stands on a hillside on the left bank of the River Boyne. There are a number of historic sites on the hilltop, many of which are steeped in history and mythos. The Hill of Slane is known as the place where St. Patrick lit a Paschal fire in defiance of the pagan High King Lóegaire who forbid any other fires to be lit within view of the Hill of Tara while there was a ceremonial fire burning in celebration of Beltaine. Many visitors and pilgrims come to the Hill of Slane because of its Christian significance, yet few visitors realize that this place held huge importance long before St. Patrick ever set foot in Ireland.
From the Hill of Slane, one can easily see the Great Mound of Knowth, Dowth, and Newgrange, as well as views towards the sea at Drogheda. Slane is also reported to have been the site of a mythical healing well that the Tuatha Dé Danann used to heal their wounds during battle. The Hill of Slane is such an influential and important site that simple descriptions fail to capture this mystical and fascinating place of historical significance.
Allow the ancient wisdom of this sacred land of the ancients to penetrate your life as your world shifts in this magical land. Each place we visit shall open us up to the power and presence of our own inner soulmate—which is our true divine partner throughout all eternity, the essence within us that never ends but moves with us lifetime after lifetime. Over hill and dale—from Dublin, the Book of Kells, Newgrange, the Boyne Valley, Glendalough, Kildare, the Ring of Kerry, Kenmare, and beyond—join Joan Clark on her Mystical Pilgrimage to Ireland as we squeeze in as much of the sacred, ancient, magical and delightfully joyful as any band of pilgrims possibly could!