Explore the Temples and Ashrams of Northern India on a 14-Day Spiritual Tour!
Spiritual Tour to India Introduction:
Experience the beauty that is India on a sacred spiritual tour to India that will take you to some of India's most magnificent temples, ashrams, and holy sites. This one-of-a-kind spiritual tour to India is a mystical experience of sacredness that will take you to the holy sites of Delhi, Calcutta, Varanasi, Agra, Khajuraho, Jaipur, Ranakpur and much more.
India has been a place of sacred pilgrimage for thousands of years. It is the home of many religions and spiritual practices such as Hinduism, Jainism, Buddhism and Yoga.
On this spiritual tour to India you will find yourself on a magical adventure that will take you throughout the country of northern India, on four plane rides, a plane and rickshaw ride. You will see a magnificent light show, and take a sunrise boat cruise on the sacred Ganges River. You will explore ancient and modern cities, ashrams, temples, fire temples, colorful bazaars, and much more!
In the Skanda Purana, a Hindu holy book, referring to India it says:
"Are there not many holy places on this earth?
Yet which of them would equal in the balance to one speck of the Kashi's dust?
Are there not many rivers running to the sea?
Yet which of them is like the River of Heaven in the Kashi?
Are there not many fields of liberation on earth?
Yet not one equals the smallest part of the city never forsaken by Shiva.
The Ganges, Shiva and Kashi: Where the Trinity is watchful,
no wonder here is found the grace that leads one on to perfect bliss."
India holds some of the most holy and sacred places on earth.

Tour of the Jain Temple of Ranakpur
Moving into the depths of the mountains of Ranakpur, we will visit its stunning Jain Temple, also considered to be the supreme example of its architecture. This temple is dedicated to Adinatha, whom the Jainists hold is the "Original Lord" and first Tirthankara, responsible for formulating and organizing humans to live in a society harmoniously and the dharma of compassion.
This spectacular temple is also constructed of light-colored marble, but is very different, architecturally, from the Persian and Mughal-influenced style of the Taj Mahal. Since Jainists believe that control of the cosmos comes from the Tirthankara's conquest of the cardinal direction, the temple is symbolically designed with four faces.
It rises out of the side of the hill supported by over 1,444 pillars. Each one is completely unique and carved in exquisite detail – each statue faces one or another statue, creating the visual illusion of both endlessness and individuality. Sequential spacing and boundless variety are combined blissfully with the immaculacy of white all over. One statue, carved out of a single marble rock, has 108 heads of snakes and tails. One cannot find the end of the tails. People come away from this temple fascinated, purified, and uplifted by its beauty.
Tour of the Taj Mahal
Just to the south of the walled city of Agra lies the mausoleum of Mumtaz Mahal, the third wife of emperor Shah Jahan, so beloved by him that his grief inspired the construction of one of the wonders of the world. The very words "Taj Mahal" breathe of magic, devotion, and the force of love. It is literally one of the most beautiful buildings in the world.
We will greet it at sunrise, as the morning sun lights up the white marble and inlaid stones which make this "crown of palaces" the height of Mughal architecture. Calligraphy inscribes passages from the Qur'an throughout the complex, domes of marble reach up to the sky in perfect symmetry, inlays of jasper, black marble, and herringbone tile the floors with delicately and dizzyingly complex decorations.
Shah Jahan himself said of the Taj:
"Should guilty seek asylum here,
Like one pardoned, he becomes free from sin.
Should a sinner make his way to this mansion,
All his past sins are to be washed away.
The sight of this mansion creates sorrowing sighs;
And the sun and the moon shed tears from their eyes.
In this world this edifice has been made;
To display thereby the creator's glory."
Mystic and Spiritual Guide Finbarr Ross will take you on a journey of ascension and awakening consciousness through this unique spiritual tour to India. v is connected to the energy centers of the land and its holy temples and will lead the group in meditations designed to open you to the fullness of the experience and to your own awakened consciousness.
If you've felt called to visit India, this spiritual tour to India is for you!
Spiritual Tour to India 2017 Itinerary:
March 5th – Thursday – Day 1: Arrival in Delhi/Welcome Dinner
Welcome to Delhi, India's bustling capital city. After customs, our representative will meet you with a traditional Indian welcome and escort you to your hotel.
Delhi, one of the oldest and most progressive cities in the world, combines a unique ambience fusing the ancient with the modern. Tremendous ancient monuments stand side-by-side with futuristic buildings, rambling homes are dwarfed by towering luxury hotels, technology intermingles with handicrafts – Delhi is India's show window. A truly cosmopolitan city, it has brought within its fold people of all ethnic groups and their traditions and cultures, reflected in the variety of arts, crafts, cuisines, festivals and lifestyles.
5:30 pm - Getting to know everyone, followed by dinner. (D)
Overnight at the Lemon Tree Hotel.
March 6th/7th – Friday/Saturday – Day 2/3: Darjeeling – Dhoom Gompa/Tiger Hill/Mahakal Temple
This morning we board our flight to Bagdogra, followed by a magical drive through the beautiful, mystical Himalaya mountains, for about  three hours, to reach Darjeeling, a city in the State of West Bengal, located in the Himalayas at an elevation of 6700 feet.
Here, we will experience the amazing energy of The Temple of Good Will, a magnificent white palace and the etheric retreat of the Master El Morya (Master of Ray 1). Located in the Himalayas above the city of Darjeeling, the temple flows with radiant currents of light, which also has a physical focus in the hills surrounding the city.  We will connect with the vibrational energy of the Temple of Good Will, Master El Moyra and Archangel Michael (who is the angel of Ray 1).
We will begin our day by visiting Tiger Hill, located 11 km in the hills from Darjeeling. What an amazing location to experience the breathtaking sunrise over the Kanchenjunga Mountain, a most heavenly and peaceful place.
Next we will visit Dhoom Gompa, Located in the Darjeeling hills, 8 km from town. One of the most famous religious monasteries in Darjeeling, Dhoom Gompa houses several ancestral handwritten documents about Buddhism. We will engage with a beautiful and exquisitely carved statue of Maitryei Buddha.
Observatory Hill & Mahakal Temple: A short walk takes us up the Observatory Hill, home to the famous Mahakal shrine sacred to both Hindus and Buddhists. Amidst tinkling temple bells and fluttering prayer flags sit a Hindu priest and a Buddhist lama, performing rituals of both faiths. (Time permitting, we will take a steam engine train ride which through the hills for about two hours.)
We will overnight at our hotel, the Cedar Inn Darjeeling, for 2 nights. (B, L, D)
March 8th – Sunday – Day 4: Darjeeling to Delhi
This morning, we drive back to Bagdogra and board our flight for Delhi.
Upon arrival, we will check into our hotel and have some free time to journal and integrate all that we have experienced thus far.
We will overnight at our hotel the Lemon Tree Delhi. (B, L, D)
March 9th – Monday – Day 5: Mathura Krishna Temple Complex/Agra
This morning, we depart Delhi for Agra, stopping in Mathura, a sacred city and home of  the Krishna Temple Complex. A place of beauty and love, these temples are built where major Hindu deity Krishna is said to have been born.
Next, we visit Agra, situated in the ancient region Braj, forming part of India's heartland Uttar Pradesh. Braj is associated with the birth and early life of Lord Krishna. The city of Agra is situated on the west, or right, bank of the river Yamuna, south east of Delhi. The origin of Agra is shrouded in mystery, and its early history is to some extent uncertain; it was only in the time of Akbar that Agra city attained world-wide fame, becoming one of the greatest and grandest cities of that time.
Upon arrival, we will check-in our hotel and after a little rest we will have an opportunity to visit a Colonial style Indian home built in 1870. Here, we will see how craftsmen are working with gold and silver wires doing embroidery. On display they have a 150-year-old elephant made of ivory and inlaid with ten thousand semi-precious and precious stones. Later, we will have a traditional home cooked Indian dinner with the family members.
We will overnight at our hotel, DoubleTree by Hilton Agra. (B, L, D)
March 10th – Tuesday – Day 6: Taj Mahal at Sunrise/Festival of Holi
This morning, we rise early and visit the Taj  Mahal at sunrise. The Taj Mahal is widely recognized as "the jewel of Muslim art" in India and one of the universally admired masterpieces of the world's heritage. This wonderful mausoleum was erected by Shah Jahan in memory of his beloved wife, the empress Arjumand Bano, later called Mumtaj Mahal.
Described as the lustrous pearl, the Taj Mahal's beauty stems from several factors: the charming site of the vital river bend on which it stands, the reflection of the building in the water mirroring its magnificence, and the white marble façade of the mausoleum in contrast with the natural background of the skyline when viewed from the garden in front, its color, moods and texture changing quite often.
Within the Taj Mahal, we will experience a powerful vortex which connects us to the Divine Mother.
After our sunrise experience, we'll go back to our hotel for breakfast, and later visit the marble factory where one can view the craftsmen working on marble using the same technique that was used 400 years ago.
Today being the Festival of Holi (festival of colors), we will have an opportunity to enjoy and play with the locals at this unique festival.
We will overnight at our hotel Double Tree by Hilton Agra. (B, L, D)
March 11th – Wednesday – Day 7: Chand Baori/Harshad Mata Temple/Jaipur
After breakfast, we depart for Jaipur, en route stopping for lunch and later driving to a village known as Abhanari to see Chand Baori, the world famous stepwell. This is the deepest and largest stepwell in India, with 3,500 narrow steps and over 13 stories, extending approximately 100 feet into the ground.
Here, we will also see and experience Harshad Mata Temple or the Temple of Joy and Happiness, a wonderful Hindu Temple.
Later we'll walk around the village to see the rural life of India, then continue on to Jaipur.
Check in to our hotel, followed by free time.
Overnight at our hotel The Trident Jaipur. (B, L, D)
March 12th – Thursday – Day 8: Galtaji Temple/Birla Temple
Jaipur is an amazing city with all its beauty and mysticism. After breakfast, we will visit the Galtaji Temple. About 10 kilometers from Jaipur City, this site consists of a series of temples built into a narrow crevice in the ring of hills that surrounds Jaipur. A natural spring emerges high on the hill and flows downward, filling a series of sacred kunds (water tanks) in which pilgrims bathe. Visitor and pilgrims can ascend the crevasse, continuing past the highest water pool to a hilltop Temple. Views of Jaipur and its fortifications spread out across the valley floor, and it is believed a Saint Galav lived here.
Jaipur, the first planned city in India, is also known as the Pink City of India. In addition to its role as the provincial capital, the economy of Jaipur is fueled by tourism, gemstone cutting, luxury textiles and is considered a major hub for arts and crafts. Many shops sell antiques, jewelery, gems, carpets and leather products. This afternoon, we will be visiting the gem cutting and textiles gallery. Later, we will be visiting the Birla Temple, dedicated to Lord Vishnu and Goddess Lakshmi.
Overnight at our hotel The Trident Jaipur. (B, L, D)
March 13th – Friday – Day 9: Jodhpur/Mehrangarh Fort/Kunj Bihari Temple
This morning, we depart for Jodhpur, a city in the Thar Desert of the northwestern state of Rajasthan. Its 15th century Mehrangarh Fort is perhaps the most magnificent fort of all in Rajasthan. Set on a rocky hill, the fort overlooks the walled city where many houses are painted in blue. Jodhpur is also known as the Sun City, as the sun shines almost every day of the year.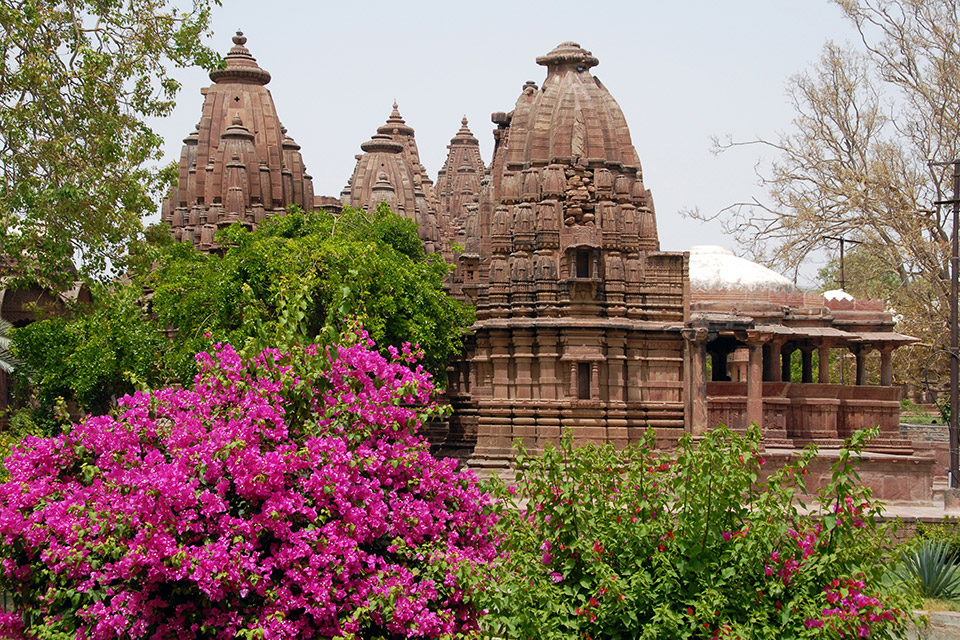 On arrival we check-in, then visit the local market where we will have an opportunity to mingle with the locals and witness wonderous variety, especially the women in their vibrant colors and men with their colorful turbans. We shall visit Maharani Textiles, and conclude our day with a visit to Kunj Bihari Temple. Dedicated to Lord Krishna also known as Sri Nath ji, the temple belongs to the Rama Nandi Vaishnava sect of Hindus.
Overnight at our hotel Balsamand Palace Jodpur. (B, L, D)
March 14th – Saturday – Day 10: Mehrangarh Fort Temple/Maa Chamunda Temple/Bishnoi Village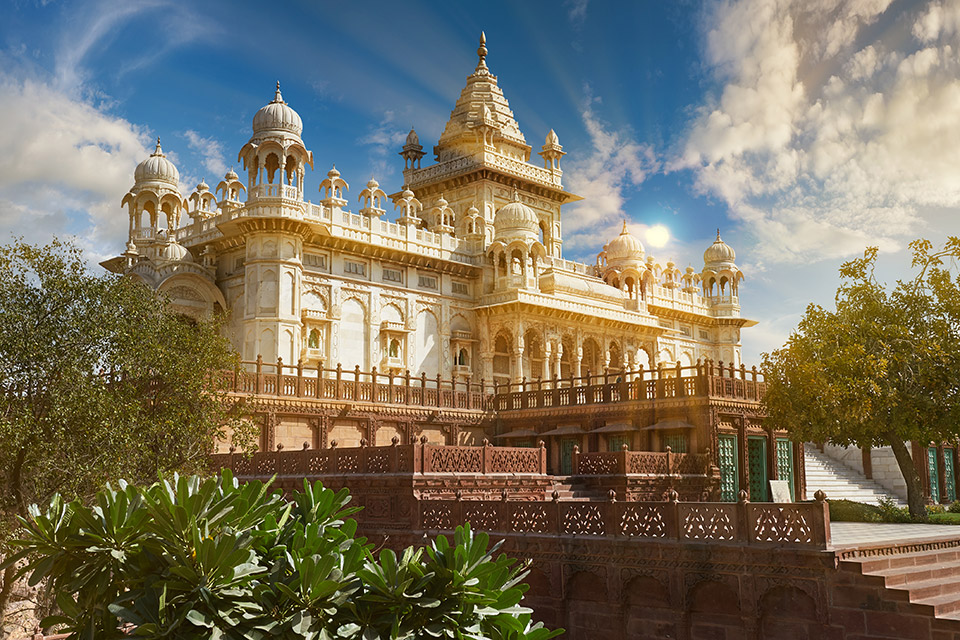 After breakfast, we visit the Mehrangarh Fort Temple. Built in 1459, this imposing structure is enclosed by thick walls where several palaces inside are known for their intricate carvings. Here, you will visit the Temple of Maa Chamunda, a Hindu Temple with a dramatic view of Jodhpur City.
We will have the afternoon free to shop explore, rest, meditate or journal. This evening, we will go on a jeep safari to witness the Bishnoi  Village.
The Bishnois are devoted worshippers of Nature. On our Bishnoi safari, we shall experience the amazing cultural life of the community and their diet which constitutes pure vegetarian dishes. We will also experience the finest works of pottery and iron smithing. We will see wildlife species like antelopes, demoiselle crane, gazelle, rabbits, peacocks, blue bulls and perhaps blackbuck.
Overnight at our hotel WelcomHeritage Bal Samand Lake Palace Jodpur. (B, L, D)
March 15th – Sunday – Day 11: Ranakpur/Jain Temples
This morning, our drive will take us to Ranakpur.
In a remote and peaceful valley of Ranakpur are the most beautifully preserved Jain Temples in India. Built in the 15th century, these temples are known for being the largest and most important temples in the Jain religion. The main temple dates back to 1439 and is called the "four-faced temple." Covering an area of 48,000 square feet, it has 29 halls, 80 domes and is supported by 1444 marble pillars, each of them intricately carved, yet no two are alike.
Later, we check-in at our hotel. In the evening, we will be entertained with Rajasthani Folk dances.
Overnight at our hotel Maharani Bagh Orchard Ranakpur. (B, L, D)
March 16th – Monday – Day 12: Udaipur City/Lake Pichola Cruise
Today, we have an early morning departure to "the city of lakes", Udaipur, in the Mewar Region. Stopping en route, we will visit the Shri Eklingi Ji Temple. Eklingi is believed to be the ruling deity of Mewar.
From here, we'll drive to Udaipur. Known as the Venice of the East, it has been dubbed the most romantic spot on the continent of India by a British administrator, James Todd. It is known as "the city of lakes" because of its sophisticated lake system, with seven lakes surrounding the city, and the city itself nestled around the Aravalli range of Mountains. Upon arrival we'll check-in, and after some rest and tea, we'll drive around the city and take a boat ride on the famous Lake Pichola. We will learn why this city is also known as the White City.
Later, we will proceed for dinner at a local restaurant before heading back to the hotel.
Overnight at our hotel Laxmi Palace Udaipur. (B, L, D)