VISION OF ALBION
THE KEY TO THE HOLY GRAIL
Jesus, Mary Magdalene and the Christ Family
in the Holy Land of Britain
by Barry Dunford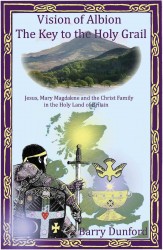 This book is the result of fifteen years research into the hidden history surrounding the historical figure usually referred to as Jesus of Nazareth, and the origins of Christianity. Central to this is the primary role played by the sacred British Isles which the English poet and mystic, William Blake, viewed as the original and archetypal Holy Land on planet earth. That is to say, the initial and supreme location for the seeding of the Christ Light and Consciousness into the world, from where it was to radiate out to reach the entire globe itself.
This revealing and extensively documented book has an important message for these times of transition. The British Isles have a vital part to play in the evolution of humanity on this planet as we move towards 2012 and beyond. The 21st century may herald the Third Age of the Holy Spirit, the Spirit of Truth, when ye shall know the truth and the truth shall make you free. It is hoped that the publication of this book will contribute towards this era of conscious awakening.
Contents include:
The spiritual role of the sacred isles of Britain in world history
Were Jesus and Mary Magdalene on Iona
Was there a female Apostolic succession
Pontius Pilate and the ancient yew at Fortingall
Rosslyn Chapel and the Rose lineage of Christ
Does Edinburgh contain a geomantic ground plan for the New Jerusalem?
The mysterious Mount Heredom and the White Isle of Shambhala
Paperback: 148mm x 210mm, 464 pages, colour and black & white illustrations, notes, bibliography, index. Published by Sacred Connections, Perthshire, Scotland: December 2008.
© Copyright 2008 Barry Dunford
Hurry, quantities are very limited. Out of print in the US
Free Shipping to US addresses!